Audience: Mentor, Client Intake Coordinator, Volunteer Intake Coordinator

Introduction
If you need to change your availability temporarily, follow the instructions below. Only the volunteer themselves, CIC, VIC, and Chapter Manager are able to modify these fields.
Who can adjust this setting: The mentor who owns the profile, Client Intake Coordinators, Volunteer Intake Coordinators, and Chapter Managers.
Set Pause Mentor Assignment
1.) From the homepage, select My Profile from the top navigation bar.

2.) Then, click the Edit button.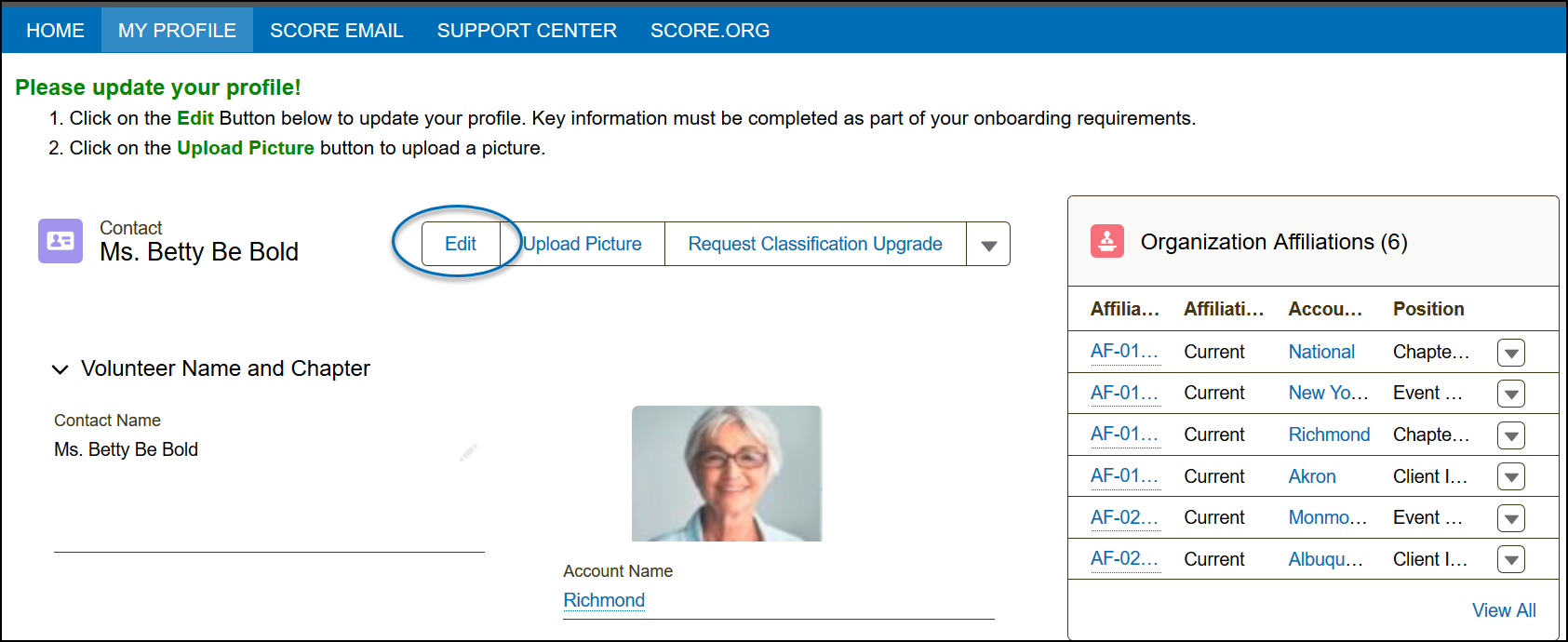 3) Scroll down to Mentors Request Settings and adjust the Pause Mentor Assignments start and end date. When using the Pause Mentor Start Date, it will require you to also enter an End Date. The values on this section are removed after the End Date has been satisfied. Engage will automatically uncheck the Pause Mentor box and delete the dates on the start date and end date fields.
Pause Mentor Assignments: Automatically checked when Assignment Start and End Dates are specified below.
Pause Mentor Assignments Start Date: Enter the date you would like to start the pause of mentor request assignments. When selecting the current date, it automatically sets you as paused on that date. When selecting a future date, it will start the pause at 11:59pm of the selected date.
Pause Mentor Assignments End Date: This field becomes a required field when you enter a Start Date above. The Pause Mentor Assignments field above will automatically uncheck at midnight on the end date entered.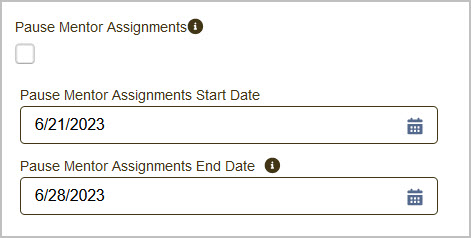 Notes and Limitations:
Timezone is set to the mentor's primary chapter affiliation.
Pause Mentor Assignments: The checkbox is no longer clickable. The checkbox selection and deselection is now triggered by start and end date.
Pause Mentor Assignments Start and End Date: This only pauses the CIC from assigning you any mentoring case.
Mentors who accept direct requests, please uncheck the box to Accept Direct Requests if you do not want to receive direct requests while you are unavailable. You will need to re-check the box when you're available to receive direct mentoring requests again..
Relevant Resources: