This toolkit includes resources your local chapter can utilize to recruit qualified volunteers across multiple marketing channels. The Marketing and External Relations Teams partnered together on this effort to bring you as many useful resources as possible in one place for easy reference.
Table of Contents
Image and Video Resources
As you create a local volunteer recruitment campaign, you can utilize the following image and video resources. These can be used across multiple marketing platforms.
VolunteerMatch
VolunteerMatch is the leading volunteer recruitment platform for the US, with over 1.3 million monthly visitors. The VolunteerMatch platform provides a space where organizations can recruit qualified volunteers, successfully connecting over 17 million volunteers with various organizations based on users' location and/or interests.
A few tips on how to increase your chapter's visibility on the platform are outlined below:
Utilize the one-click Repost tool.
The search results on VolunteerMatch.org are organized by the most recently posted opportunities at the top and filtered down from there. Reposting your opportunities frequently will boost them to the top of the search results.
You can repost opportunities by clicking the circular icon to the right of each opportunity.

Copy opportunities for inclusion in the "New Opportunities Near You" VolunteerMatch newsletter.
All new opportunities are included in VolunteerMatch's "New Opportunities Near You" newsletter. When you utilize the Copy feature, make minor adjustments to the opportunity, and delete the old opportunity, VolunteerMatch will view it as a brand new opportunity and include it in their newsletter to VolunteerMatch account holders in your local area.
To copy an opportunity, click on the pencil icon and then select "Copy" from the next screen.

Boost coverage with the Multi-Zip Tool.
Another way to increase visibility on VolunteerMatch is to increase your zip code coverage through the Multi-Zip tool. By default, all opportunities on VolunteerMatch run within a 20-mile radius of the zip code used in the address field. By using the Multi-Zip tool, your chapter can boost an opportunity for 90 days to run in either a County, City, Metro Area, State, or Nationwide.
To use this tool, you would click on the text "Expand ZIP Code Coverage" below the opportunity title, and select what option you would like to boost to from the drop-down menu. This is a feature that requires payment through the use of a personal credit card. This can be refunded by submitting a Form 14.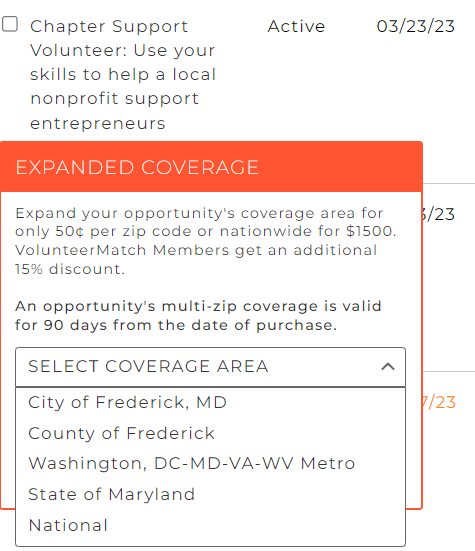 Please visit the How to Use VolunteerMatch to Recruit New Volunteers page to learn more about this platform and view the recently updated Opportunity Library, where you can find templated opportunities for various volunteer roles to post on VolunteerMatch.
Social Media Resources
This National Volunteer Month, we are sharing resources and tools to help you celebrate your amazing chapter mentors and recruit experienced business experts to join our organization. We are providing the following assets, templates and social media posts for Social Media Chairs to help celebrate this observance in their local online communities.
Organic Volunteer Recruitment on Social Media
Use the following available assets and caption ideas to create organic social media posts! You can choose from all new client + mentor photography, full-length videos or social cut videos and pair them with the provided captions or write your own. Feel free to mix and match the options, customize the copy and add a local touch.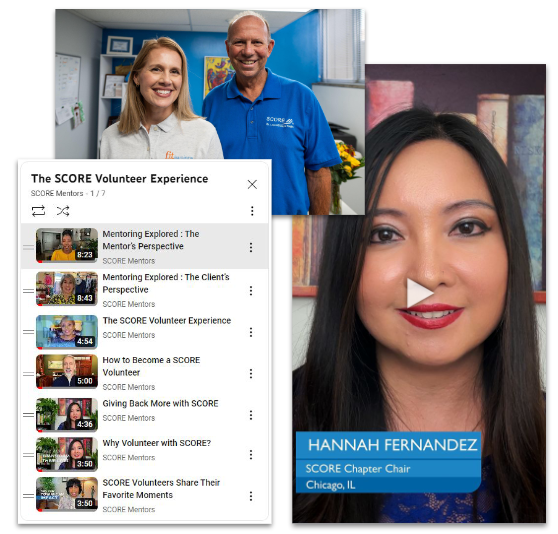 Available Assets:
Caption Ideas:
April is National Volunteer Month! We're looking for people with diverse backgrounds and experiences to serve in a variety of roles here at SCORE <chapter name>. To learn more about giving back to our local business community, visit https://www.score.org/page/volunteer-score. #NationalVolunteerMonth #VolunteerOpportunity
Statistics show that entrepreneurs that work with SCORE mentors start businesses, create jobs and increase revenue. The work you will do at SCORE will make a measurable impact on our local community and - more importantly - someone's life. Learn more: https://www.score.org/page/volunteer-score. #NationalVolunteerMonth #VolunteerOpportunity
As a SCORE <chapter> volunteer, you can serve in a variety of roles - from knowledgeable business mentor to local community advocate. In addition, many volunteer opportunities can be performed remotely to fit in with your busy life. Learn how to become a SCORE volunteer at https://www.score.org/page/volunteer-score. #NationalVolunteerMonth #VolunteerOpportunity
Do you want to have a lasting impact on the success of small business owners in your community? Consider becoming a SCORE volunteer. You can learn more and apply by visiting https://www.score.org/page/volunteer-score. #NationalVolunteerMonth #VolunteerOpportunity
Paid Volunteer Recruitment on Social Media
SCORE's trusted partner Hiper offers optional turn-key social media advertising campaigns to support your volunteer recruitment. Consider running a Lead Generation Campaign to collect quality volunteer leads from highly targeted ads on LinkedIn, with seamless pre-filled forms: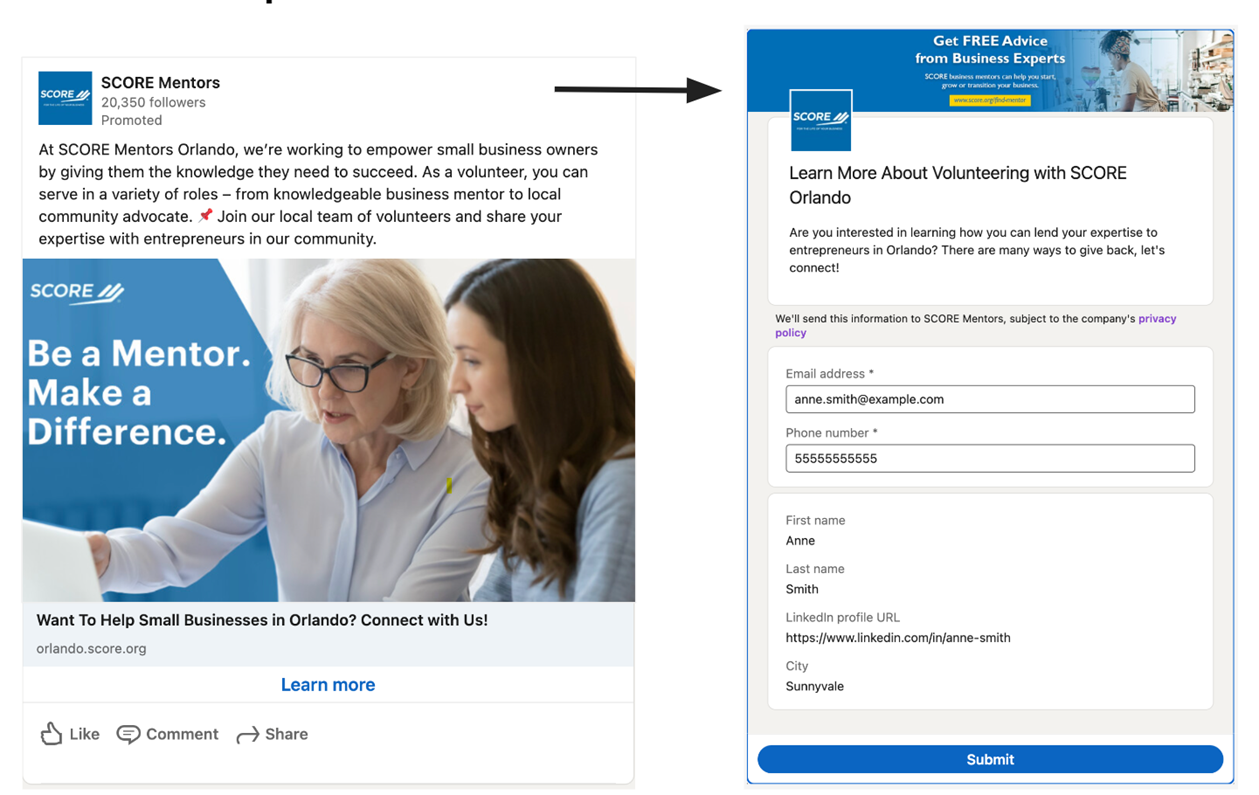 Lead Gen Forms come pre-filled with accurate LinkedIn profile data, letting potential new volunteers easily submit their professional contact information with minimal clicks. Hiper uses automation to share the leads with the key contact from your chapter. It is then the chapter's responsibility to nurture those leads by calling or emailing the prospective volunteers. Leads will be saved in a shared Smartsheet so you can track them accordingly. Learn more and opt-in here.
Volunteer Spotlights on Social Media
Another great way to celebrate National Volunteer Month is to spotlight and uplift the amazing volunteers at your chapter on social media! With our all new customizable SOCi templates, featuring your chapter's unique volunteers is now easier than ever. Keep reading to learn how:
Spotlight Template:
View the SOCi Knowledge Base guide here OR follow these instructions:
Login to SOCi at

https://app.meetsoci.com/

Navigate to Social > Libraries > "SCORE | Volunteer Spotlight."

Select template and choose the schedule icon.

Fill out the template and update the text that has the double brackets [[ ]].

Remove the placeholder image and upload the photo of the featured mentor.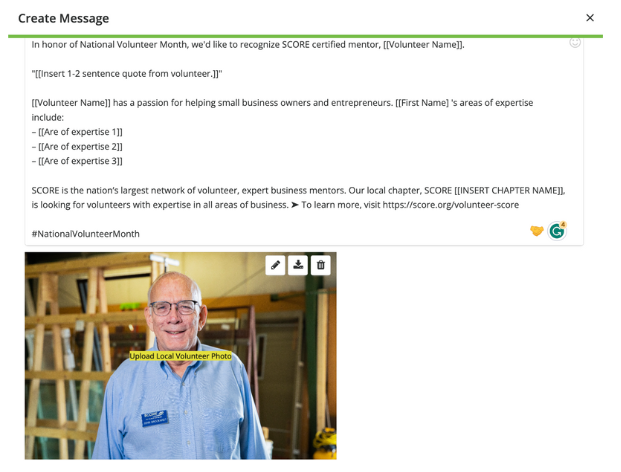 Social Media Toolkit Training
The goal of providing you with these resources is for you to layer in the additional National Volunteer Month content on your chapter's social media channels, so we aimed to make it as easy as possible for you to do so! In our March Social Media Webinar, we provided a live demonstration of how to use the toolkit assets combined with our SOCi social media management tool. Watch the replay here for further training.
Email Marketing
Volunteer Recruitment Constant Contact Template
A volunteer recruitment email template was created to assist your chapter in running an email marketing campaign. Please feel free to send this email as-is or add chapter information and imagery for a more local feel.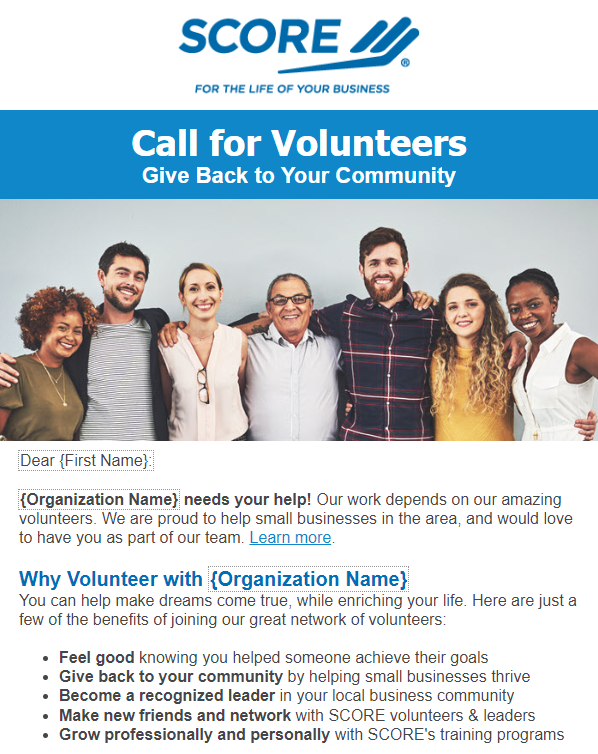 To find this template:
Log in to

Constant Contact

Click 'Campaigns' in the top menu
Click the 'Create' button and select 'Email'
Select the tab titled '<Chapter Name> SCORE'
Then find 'Score 3ge'
Find the email listed on this page titled: National Volunteer Month or Volunteers Chapter Template
Make changes to the sender and/or logo as desired and follow the instructions at the top of the email template
Add Volunteer Recruitment Section to Newsletter
Another option to recruit volunteers through email marketing is to include a section about volunteering at the bottom of a few of your monthly emails.
This could be a blurb about SCORE and the benefits of volunteering with the organization, a mentor spotlight with a testimonial, or even a success story that ties back to how impactful it is to be a SCORE mentor.

Public Relations
To help spread the word about SCORE and the impactful work your volunteers provide to your local small business community, as well as submit a call for volunteers, you can distribute a press release to nearby news outlets or use audio PSAs on local news radio stations.
Press Release
Use the FY22 Impact Data / National Volunteer Month press release template to help spread awareness about National Volunteer Month in April. Fill in the open fields in the template with your local chapter information and impact data.
View examples of how to use this resource with local media in our SCORE Media Training series.
If you would like to be further inspired, take a look at some SCORE HQ Press Releases:
Public Service Announcements
Run a radio Public Service Announcement on a local News Radio Station.
Additional Public Relations Resources
Google Ads
All chapters are eligible for the Google for Nonprofits Ad Grant, which provides $10,000/month for text ads. Google ads are extremely beneficial in increasing awareness of SCORE and driving website traffic.
SCORE Miami Dade is currently working with AboveX Digital, an approved Google Ads Vendor, to run volunteer recruitment ads with their Ad Grant and seeing success. An example of one of their volunteer recruitment ads is below, and you can find sample text ads here: Sample Volunteer Google Text Ads.

Please note that while the Google Ad Grant can be an effective marketing tool, these volunteer campaigns are often very competitive in the nonprofit space due to bidding wars on the same volunteer recruitment keywords- making it difficult to gain traction.
If your chapter has the funds to support your Google Ad Grant campaign, you could consider running a Commercial Google Ad campaign. Commercial ads take priority over the grant accounts, making it possible to target more competitive volunteer keywords and get better results.
For more information on Google Ads, please visit the following page: Google for Nonprofits Ad Grant. Email Marketing@score.org with any questions and instructions on how to get started.
Volunteer Recruitment Collateral
The SCORE Company Store through Office Depot currently has free stock of the below volunteer recruitment collateral, with the chapter only having to cover the shipping cost.
The free stock of these items is first come, first serve.
Volunteer Bi-Fold Brochure (available in both English and Spanish)
Volunteer Tri-Fold Brochure
Pocket Folder
These volunteer recruitment brochures are great to have at in-person networking events or to leave with local community partners who can share these with their members.

Questions?