Frequently Used Volunteer Recruiting Resources
Volunteer Recruiting Videos
This toolkit will guide you through how to use these videos in your recruitment efforts across various marketing channels. Below you will find the titles, descriptions, and links for all five of the volunteer recruitment videos.
Website Strategies
Including videos on your website keep visitors longer and engage them with your content. Any of the five videos would work on the home page or volunteer page, but you could even feature the SCORE Volunteers Share Their Favorite Moments video on the Find a Mentor page.
How to Add Videos on Website
Consider featuring a video, or videos, on your chapter website using the Media with WYSWYG content band. To add this content band on your chapter website, please follow the below instructions:
Log in with your webmaster credentials. If you do not have a login and would like one, please email marketing@score.org.
Navigate to the page you would like to add a volunteer recruitment video on.
Select the Edit tab.
Click on the Content Bands tab.
Scroll to the bottom of this section and find the dropdown titled Content Band type.
From here, choose Media with WYSWYG and hit Add another Content Band.
Fill out as many fields as you can, making sure to write a description, add the video link, and choose a CTA. When you use the Media with WYSIWYG content band, the image will automatically load once you input the YouTube link. There will be no need to upload an image.

Email Marketing
Email marketing proves to be one of the most impactful marketing channels. Utilizing email marketing will help your chapter connect with your clients and audience in a personal way, at a time that is convenient for them. Adding videos to your emails is a great way to increase your conversions and engage your subscribers.
Where to Add Video Content
Think about adding a volunteer recruitment video at the bottom of the monthly BizSuccess Tips email template SCORE HQ copies into all chapter's Constant Contact accounts or a separate monthly email blast your chapter creates.
Utilize the National Volunteer Month or Volunteers Chapter Template email drafts under the SCORE 3GE tab. To find the SCORE 3GE tab:

Log in to Constant Contact.
Click the blue Create
Select email from the Choose a campaign
There should be six different tabs that appear on the next screen. Find the SCORE 3GE
From here, you can find templates created by HQ with SCORE information already included. The National Volunteer Month or Volunteers Chapter Template would best suit volunteer recruitment purposes. Click on the template you would like to use and begin editing.
How to Add Videos in Email Template
Videos can be added to a Constant Contact email in two ways: either insert a video block or create a clickable image link.
Inserting a video block:
In the email you would like to add a video, click the more icon under the Build
Then click and drag the video block into your template.
Once the video block is inserted, click on the video block to open the toolbar and then click Edit.
Paste the video's URL into the field. A thumbnail image will automatically be created.
Select Insert.
By default, when a user clicks the video, it will open in a separate window and begin playing.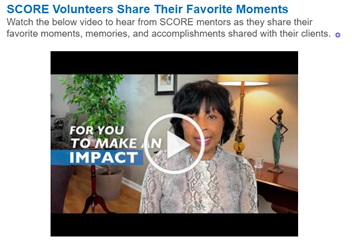 Create a clickable image link:
In the email you would like to add a video, find the Imagestab
Drag and drop your desired thumbnail image for your video into the template.
Click on the image to open the toolbar, then click Link > Web Page.
Paste the URL for the video into the field.
Click Insert.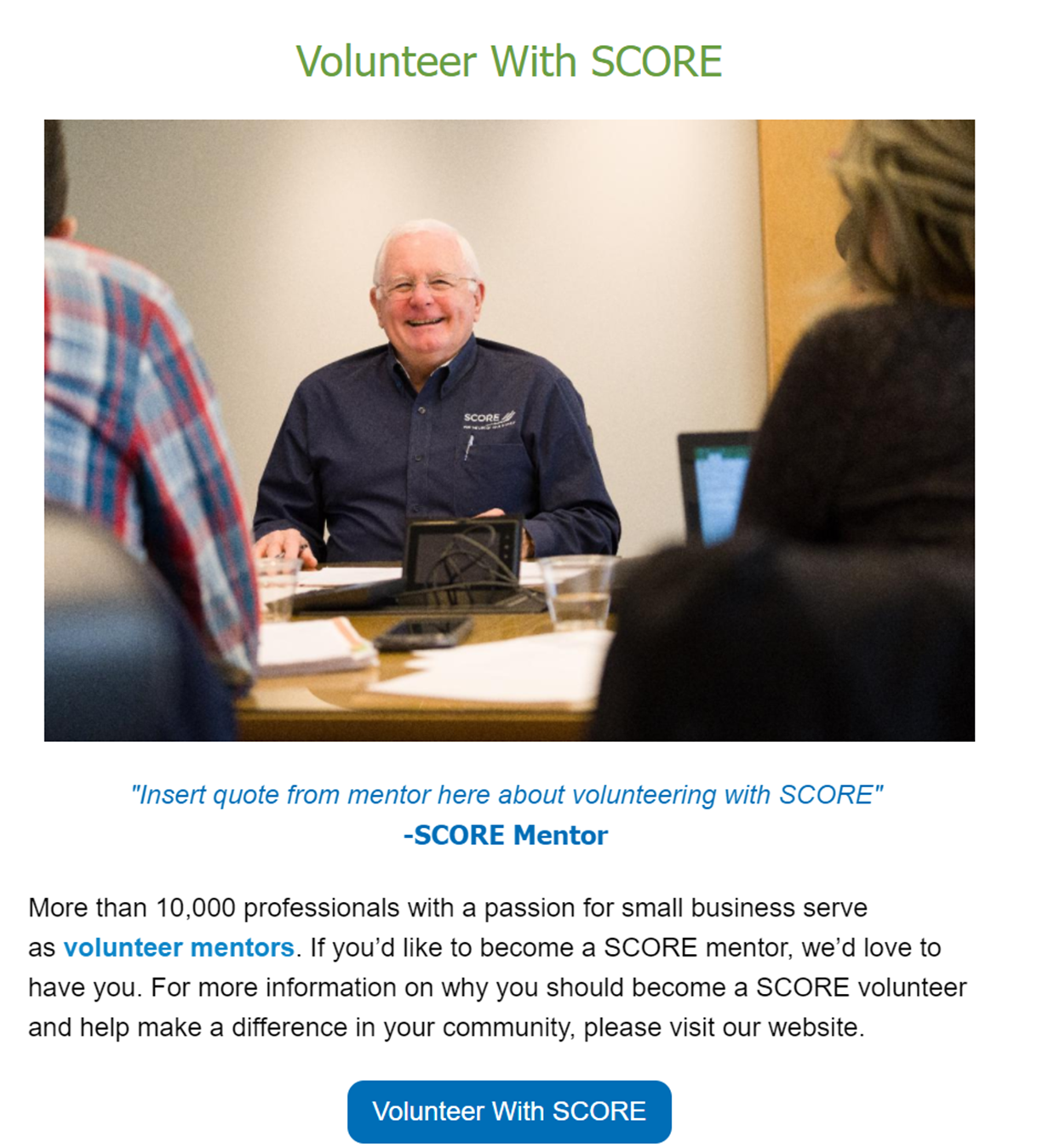 VolunteerMatch
You can add one of these videos to your VolunteerMatch account to aid in your recruitment efforts. These videos tell stories about the value of the client-mentor relationship and the various ways someone can volunteer with SCORE, and that content would be very beneficial in providing prospective volunteers with a better understanding of SCORE.
To add a new video on VolunteerMatch:
Log in to your chapter's VolunteerMatch account and navigate to the Media Manager on the left vertical menu under the Manage Opportunities section.
Click Add Video in the upper right corner.
Paste in one of the volunteer recruitment YouTube URLs, and enter in the title and a short caption. When entering the URL, make sure you do not have any extra spaces – this field is very picky.
Hit Save.
To use this video as a part of an opportunity, you will have to navigate back to your dashboard:
Find the opportunity you want to add the new video to and click the pencil icon.
Click Edit Opportunity.
Scroll to the Media section and find the Add a YouTube video dropdown. In the dropdown, click the title of the volunteer recruitment video you would like to utilize.
Save your edits, and now this video will be included with your volunteer opportunity.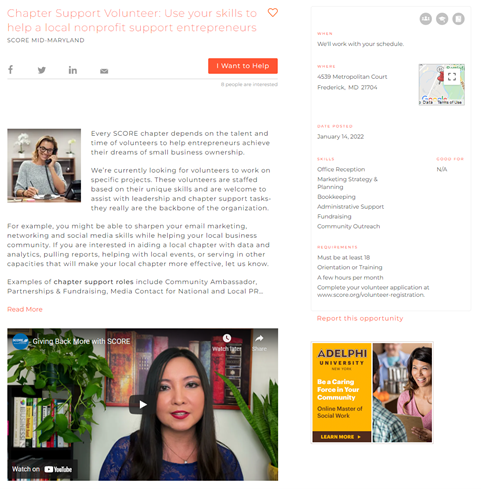 Social Media
We have created localized Facebook posts utilizing each of the new volunteer recruitment videos. We will share these posts on your chapter Facebook pages throughout National Volunteer Month. This service is being provided to all chapters in the full social media program, funded by SCORE National and executed by Hiper.
Post 1
Friday, April 1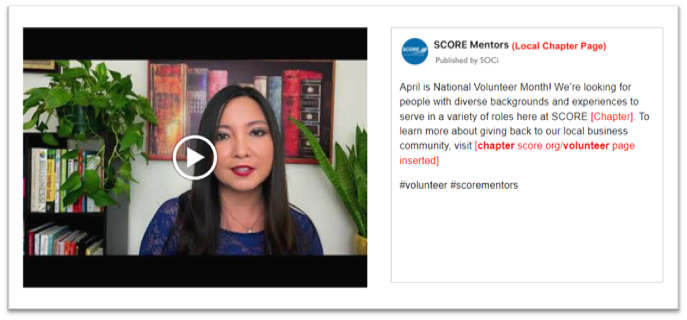 Post 2
Friday, April 8

Post 3
Friday, April 15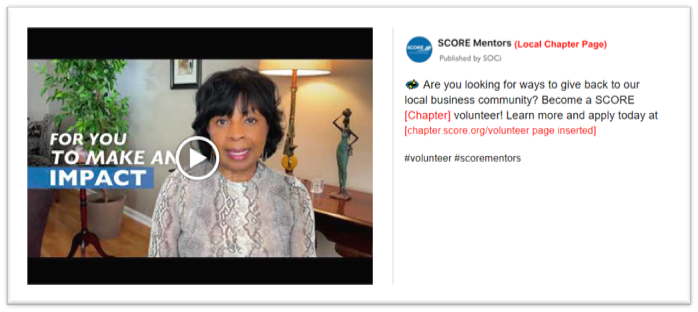 Post 4
Thursday, April 21

Post 5
Friday, April 29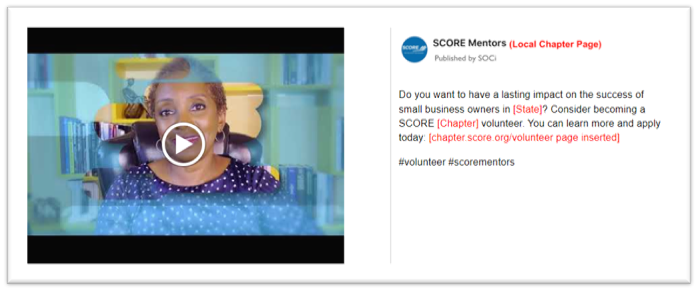 Helpful Resources:
FAQs
Can we post these videos on our YouTube channel?
These videos are already uploaded to the national YouTube channel as unlisted videos, meaning that the video can only be viewed on YouTube if the user has that direct link. Having the same video uploaded to YouTube multiple times may cause it to be taken down because they will see it as spam.
Do you have this with closed captions?
Yes, all videos were uploaded to YouTube with closed captioning.
Do you have them in a shorter version?
We do not have these videos available in a shorter format.
Can we embed them in an email?
You can now embed videos in Constant Contact using their video block option, as described under the Email Marketing section of this document.
If I have a question, who should I contact?
Please email marketing@score.org, and the Marketing Team would be happy to assist in any way we can.
For other marketing and campaign support, go to the Marketing & Promotion category.