Image Recommendations
Best practices for finding, editing, and using images on the website
Finding Images
Preferably, images should be created by the chapter or obtained from SCORE-approved resources. Never use images obtained from Google image search or other websites. Even images that are license under Creative Commons can include usage/attribution guidelines that can be missed or misunderstood and ultimately result in a license claim that creates an avoidable cost to SCORE. Should you use an image that isn't from SCORE's proprietary library, stock photo collection, or Getty images, be sure to include an image credit near the image that includes the source (i.e., Shutterstock, Adobe, etc.) and the photographer. Carefully read attribution guidelines and follow them exactly as specified (sometimes may include placement of a link).
A mentor-client photoshoot, proprietary photos, and stock images can be found on the following page: Image Resources
Getty Images
SCORE has a premium access subscription to Getty Images, a provider of professional stock photos, illustrations, and videos. You can use preview access and explore what Getty Images offers in terms of media content. The SCORE subscription is limited by the number of items that may be downloaded on a monthly basis; therefore, please limit downloads (per chapter) to no more than 5 per month. Get access to Getty Images by emailing marketing@score.org.
Getty Images search may include media assets that are not licensed under the Premium Access plan SCORE subscribes to. These assets will cost additional money therefore it is important to set the Agreements filter to Premium Access (see figure 1).




Figure 1
Advanced Search Filter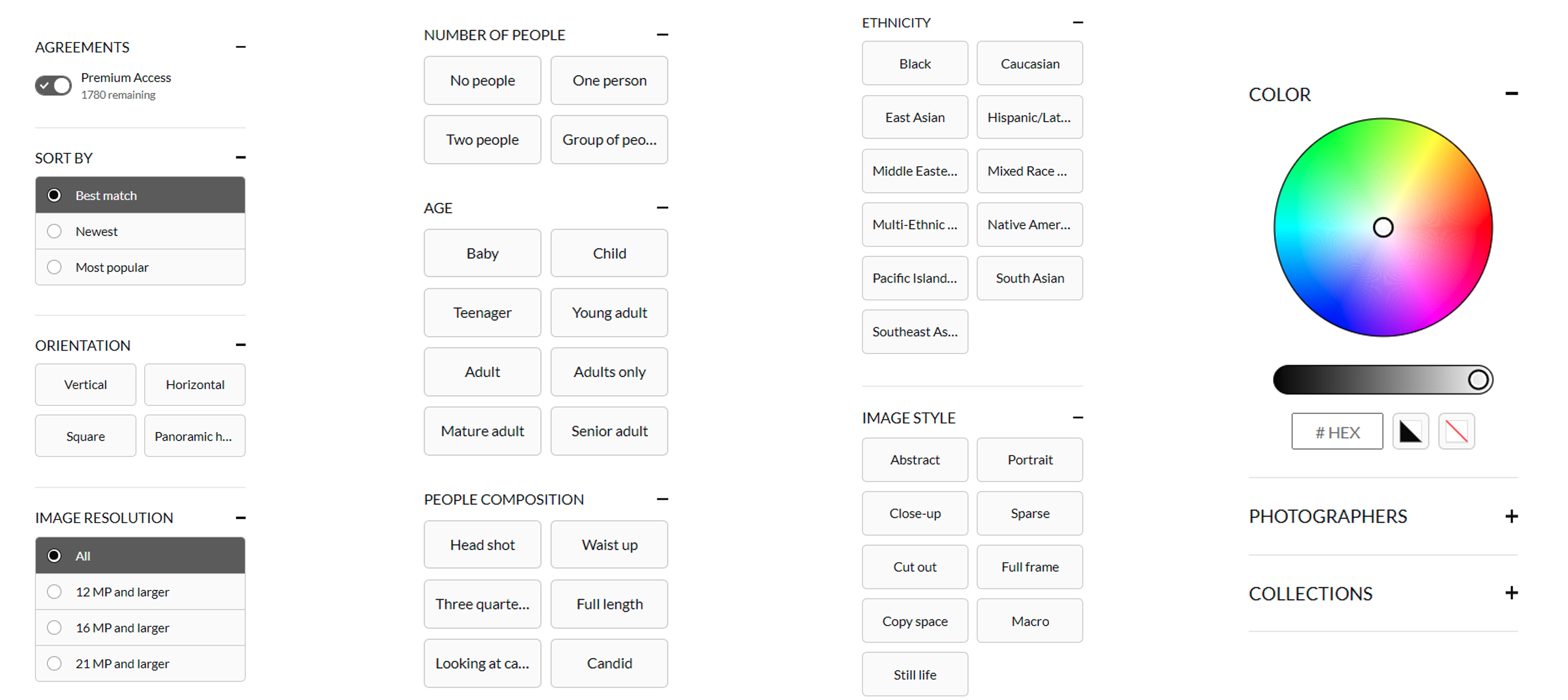 Figure 2
Creating Images
Your chapter may elect to create original photographs and/or videos for use on the website and/or other marketing materials. This is highly recommended as a way to better localize your website and capture the character of your local community.
Legal Considerations
If your chapter is creating original photographs or videos that include any subjects; including people, trademarked materials, and/or privately owned properties that are not considered public domain, a photo/video release form should be signed by the person(s), trademark or property owners. If you're unsure if a release should be obtained, it is always best to err on the side of caution and have the appropriate person execute the above-linked release.
General Website Image Tips
Images should follow SCORE brand guidelines and reflect the main idea of the content.
Consider SCORE's culture of inclusion by selecting photographs that include diverse subjects of varying genders and ethnicities.
Never use images we don't have permission to use. Use high-quality, licensed images.
If not using Getty Images, SCORE stock images, or SCORE proprietary photos, please add an image credit that includes the source (Shutterstock, Adobe, etc.) and the photographer.
Resize images DOWN, never UP (good, free, online image editor Pixlr.com)
An image quality setting of about 70% results in a balance of quality and optimal image file size (Another great online resource for reducing the file size of your image uploads: Compressor.)
Use JPG vs. PNG; Only use png if the image requires a transparent background.
Be sure to fill in ALT and TITLE fields, which are available anywhere an image can be uploaded or used on the website as these are important for your website to meet SCORE's accessibility guidelines and also have search engine optimization (SEO) benefits.
Hero Band Feature Image
The hero band, a recommended option for all landing pages and basic pages, includes a featured image that fills a large portion of the top section of a page and is meant to support the content of the page and provide visual interest to help grab visitors attention. Hero images are meant to be responsive and fluid; which means they scale with the page adapting to various screen resolutions from desktops to mobile devices. The responsiveness of the hero image presents a challenge at times to keep the main subject of the image fully visible and balanced in the frame. The best images for use in the hero band have a central focal point. The minimum resolution on most desktop (including laptop) computer screens is 1024 x 768 pixels. A hero image size of around 1500 x 500 pixels is recommended, maintaining a 16:9 ratio.