SLATE is HOW SCORE successfully mentors their clients. It is our mentoring methodology that sets us apart from all other organizations.
Using one mentoring methodology across the organization helps to ensure consistent and effective delivery of the mentoring messages. SLATE is based on extensive client research and a 50+ year history of delivering client success.
For more information go to SCORE Training 005 Mentor Certification and view the SCORE Mentoring Methodology Module.
By remembering and using SLATE in every conversation, you create an environment in which the client can communicate the desired outcome or goal that you can work toward together.
What makes SCORE's mentoring methodology effective?
Unique experiences – just under half of all employees who contact SCORE are already self-employed. SCORE mentors provide a unique experience, an interest in helping others succeed, and commitment to a sustained mentoring relationship.
Relationships matter – as a SCORE mentor, what you're really creating is the opportunity for enduring mentoring relationships with small business owners.
One size never fits all – one approach to mentoring will never fit all clients. SCORE's mentoring methodology is designed to be flexible enough to adapt to every mentoring situation as well as to your unique style as a mentor.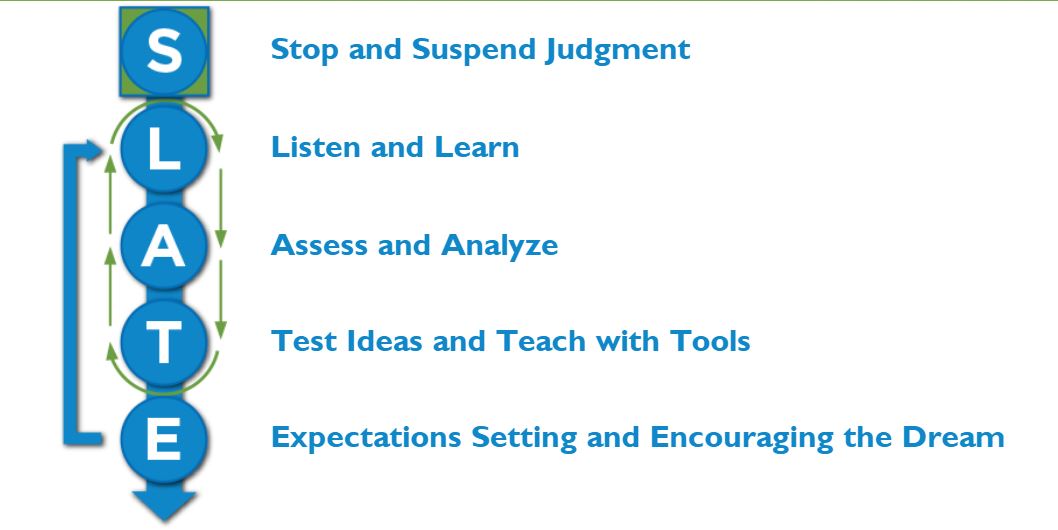 When you begin each mentoring session, remember SLATE and allow it to remind you to start each session with a clean slate.
Be open to new possibilities
Be ready to consider new ideas
Be ready with a clean SLATE in all situations. (in-person / over the phone / session 1 or session 15!)