Audience: All Active SCORE Members
Introduction
In SCORE Engage, there are a few new position titles that were derived from the chapter admin position in CORE, such as: Volunteer Intake Coordinator, Client Intake Coordinator, Chapter Manager, and Event Manager. This article illustrates the key SCORE positions and their permissions in Engage.
____________________________________________________________________________
SCORE Positions Tree
The below tree illustrates the hierarchy of SCORE positions.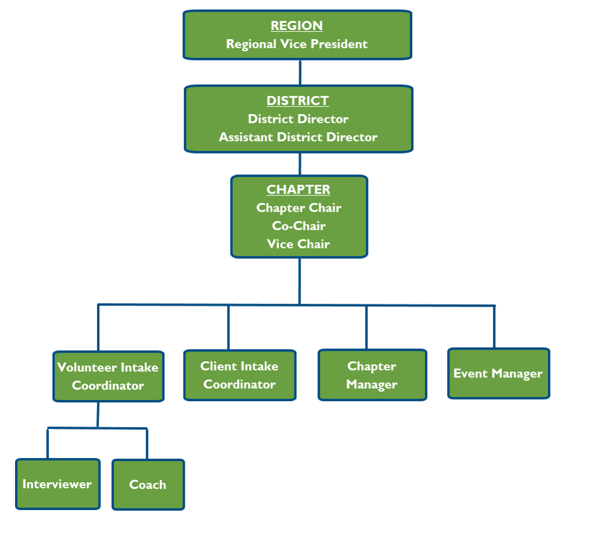 Inclusion and Diversity Positions
We have also added a couple of vital roles that keep Inclusion and Diversity at the forefront of our work. These key positions include the DEI Ambassador who work with leadership to define and communicate initiatives across the organization. The next role is the Champion who provide assessment, training, and guidance to drive I&D initiatives locally for their chapters. Click here to view the specific responsibilities associated with the Ambassador and Chapter Champion roles.
SCORE Position Permissions
The chart below illustrates the Engage permissions affiliated with each key SCORE  position. 


Position
Description
Interaction with Engage

Associate

District Director
The a

ssociate

district director is appointed by the district director to assist in the management of the district.
View all records in the district and/or region
Generate BIRT Reports in district-level
Chapter Chair
 The person who leads the chapter.
View records in the chapter
Generate BIRT Reports in a chapter-level
Champion
A chapter champion is a chapter member who conducts chapter Inclusion and Diversity (I&D) assessments and assists with developing and executing plans. They also conduct volunteer training and address and resolve issues with support from others. 
classification/position-dependent interaction
Chapter Manager
The person who ensures chapter rosters are updated, submits requests for any changes with the chapter or branch information, and adds contractors in the system.
Add Contractors
Manage Affiliations
Client Intake Coordinator
The person who receives mentoring requests submitted to the chapter. They match mentors to these received requests and ensure that they reassign any requests denied or unanswered by the original mentor.
Manage Client Mentoring Requests
Coach
A volunteer assigned to mentor/guide a provisional volunteer through the training, onboarding, socialization at the chapter.
Access Coach Applications
Adjust Training Classification
Update Onboarding Requirements (Coach Updates Req. #1, 4-7, 10-13)
Co-Chair
The volunteer who splits the chapter chair's responsibility with another Co-Chair.
View records in the chapter
Generate BIRT Reports in a chapter-level
Contractor
Paid Staff that has similar permissions to a non-client facing volunteer but is not required to complete any training courses to serve different SCORE Positions. Signs the contract to comply with the Code of Ethics.
Depending on the admin positions assigned to a contractor, they can have access as a Client Intake Coordinator, Volunteer Intake Coordinator, Event Manager, and/or Chapter Manager.
DEI (Regional) Ambassador
DEI Ambassadors work with other volunteer leadership to define, communicate, and live out SCORE's Diversity Matters value and DEI related initiatives across the organization. Learn more about DEI Ambassador roles here.
classification/position-dependent interaction
District Director 
The District Director is a volunteer management position, appointed by the SCORE Vice President of Field Operations and reporting to the Regional Vice President. The District Director is responsible for the management and performance of the district and its chapters consistent with the SOM and in compliance with the minimum standards.
View all records in the district and/or region
Generate BIRT Reports in district-level
Event Manager
Creates workshop record in SCORE Engage. Manages workshop logistics, assignment of presenters, event marketing, and content. Works with workshop coordinator to manage workshop check-in process.
Manage Events
Update Event Registrations
Interviewer 
A volunteer assigned to interview a prospective volunteer.
View Volunteer Applications
Update Interview details and recommendations
Marketing Chair 
The marketing chair is responsible for local marketing campaigns, local partnerships, and SCORE brand awareness building in the community.
 
Membership Chair
Manages chapter rosters and assists with ongoing volunteer engagement activities. 
 
Regional Vice President
The Regional Vice President is a volunteer management position, appointed by and reporting to the SCORE Vice President of Field Operations. The RVP is responsible for the management and performance of the region, including districts, and chapters consistent with the SOM and in compliance with the minimum standards.
View all records in the district and/or region
Generate BIRT Reports in region-level
Secretary 
The secretary performs the duties normally incident to that office, including the following (unless delegated elsewhere): keeps minutes of chapter meetings and training sessions, tracks compliance on required National forms and volunteer training., and assists the Chair in the implementation or delegation of chapter activities at the discretion of the Chair.
classification/position-dependent interaction
Social Media Chair
The social media chair is responsible for the following: building SCORE Online Community, managing the chapter's social media account and social media analytics, audience engagement, and content creation.
 
Treasurer
Oversees the financial administration of the Chapter.
 
Vice-Chair 
Chapter leader, directly below chapter Chair.
View records in the chapter
Generate BIRT Reports in a chapter-level
Volunteer Intake Coordinator 
The person who agrees to be the point person for all new volunteer applications, acting as the first and primary contact for applicants, assigning interviewers, ensuring acceptance or denial communications are sent to applicants, and ensuring all accepted volunteers move to provisional status properly.
Manage Volunteer Applications
Assign Interviewers and Coach
Manage Classification Upgrades
Webmaster 
The volunteer in the chapter is responsible for updating the chapter website.
classification/position-dependent interaction
Relevant Resources: