Audience: Volunteer

Introduction
Volunteer profiles are an important tool to help clients connect with mentors for help with their business. All volunteer profiles have the option of being searchable on www.score.org to not only better serve our clients, but also to increase your ability to identify Subject Matter Experts. To make your profile viewable on score.org, a profile:

Must have a photo associated with the account.
Must select a minimum of 1 and a maximum of 6 areas of expertise and 6 industries.
Must provide a profile summary ("How I Can Help You" information for clients).
Must select or update the languages section of your profile.
Table of Contents:
Update Your Profile
1.) From the homepage, select My Profile from the top navigation bar.

2.) Then, click the Edit button.
3.) Volunteer Name and Chapter - Required fields in this section include your First Name and Last Name. Use the scroll bar on the right to scroll down to the other information in your profile. For Mac Users, make sure that the scrollbar is always set to show.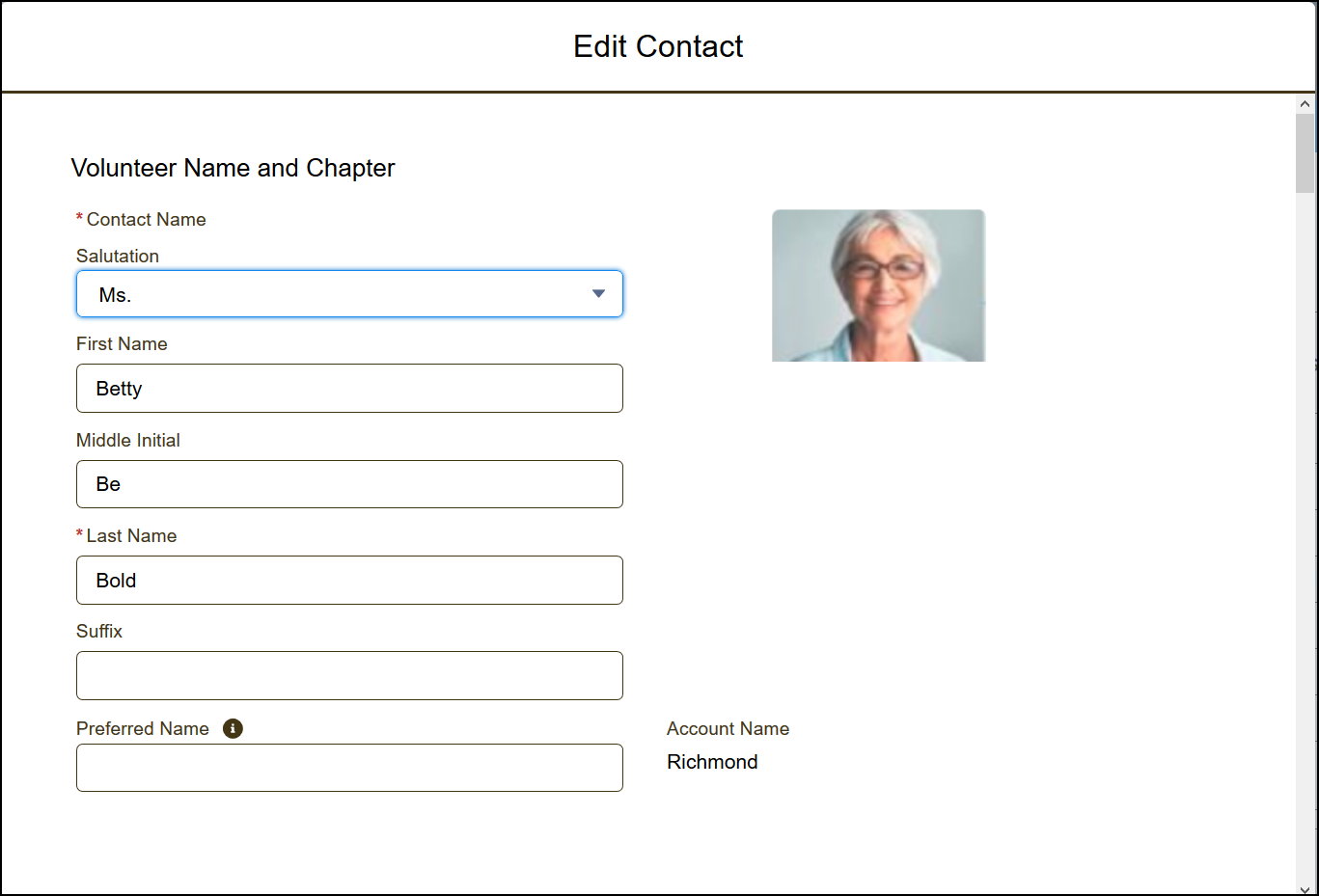 4.) Volunteer Classification and Status - You can review your current classification and status from this page. If you want to update your current classification, you can send a request to your Chapter Manager for a classification upgrade.
Emeritus Status: Emeritus is no longer a volunteer status but can still be an identity from a volunteer's profile. To properly use this field (by selecting YES from the drop-down options), the volunteer status needs to be marked as Resigned. Emeritus members do not have access to Engage. This field can be modified by you, the Chapter Manager, or Volunteer Intake Coordinator
Inactive Override: Only the Chapter Manager can move your status to Inactive and you can stay Inactive for 90-days. After 90 days, you can still extend your Inactive status to an additional 60 or 90 days by using this field. This field can be modified by you, the Chapter Manager, or Volunteer Intake Coordinator.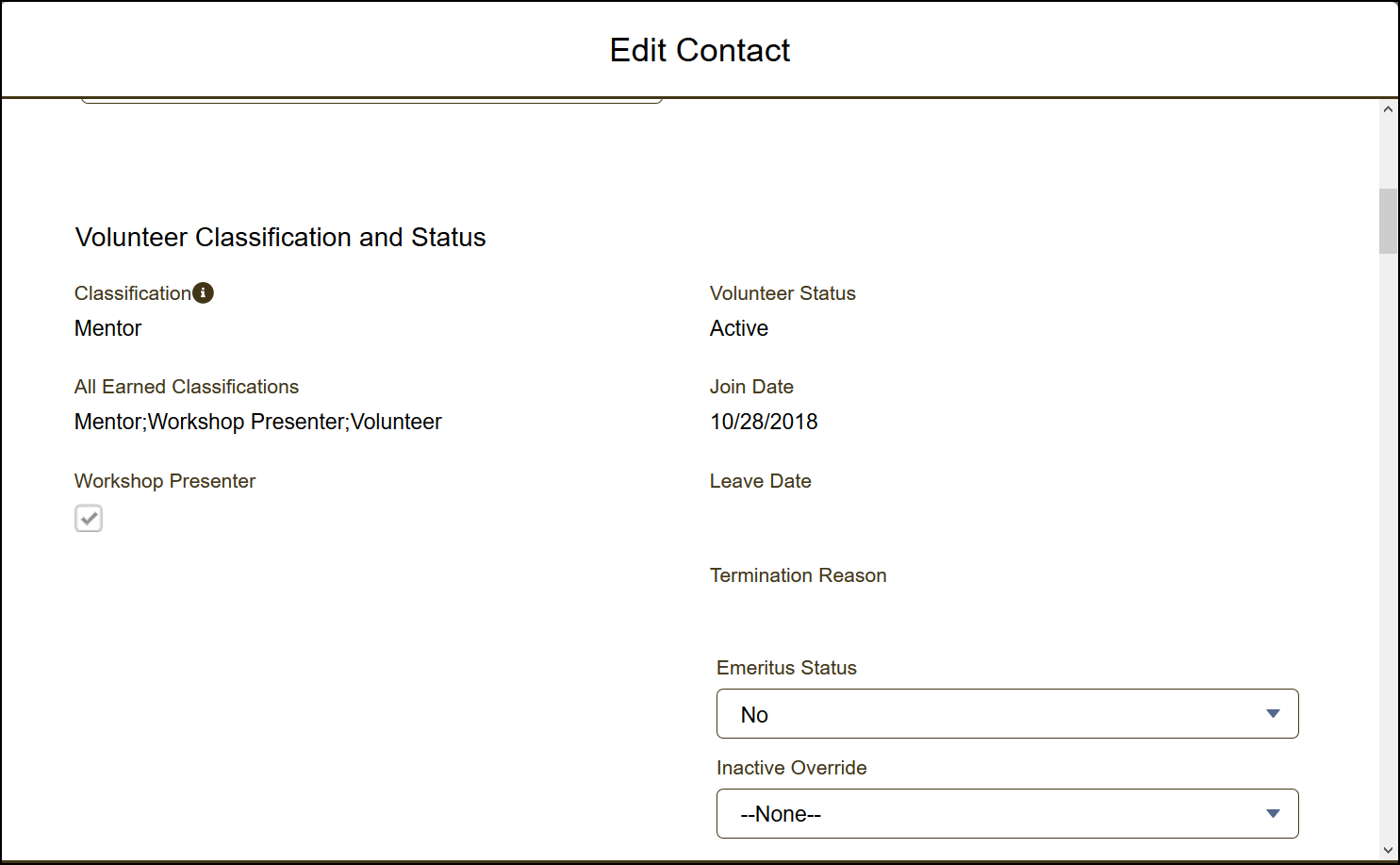 5.) Contact Details - Your SCORE Email account is listed in this section. You can modify your Personal Email address on the field provided and then indicate your Preferred Contact Method to be set as Email, Phone, or Text. Optionally, you can also enter a Secondary Phone number and Fax number.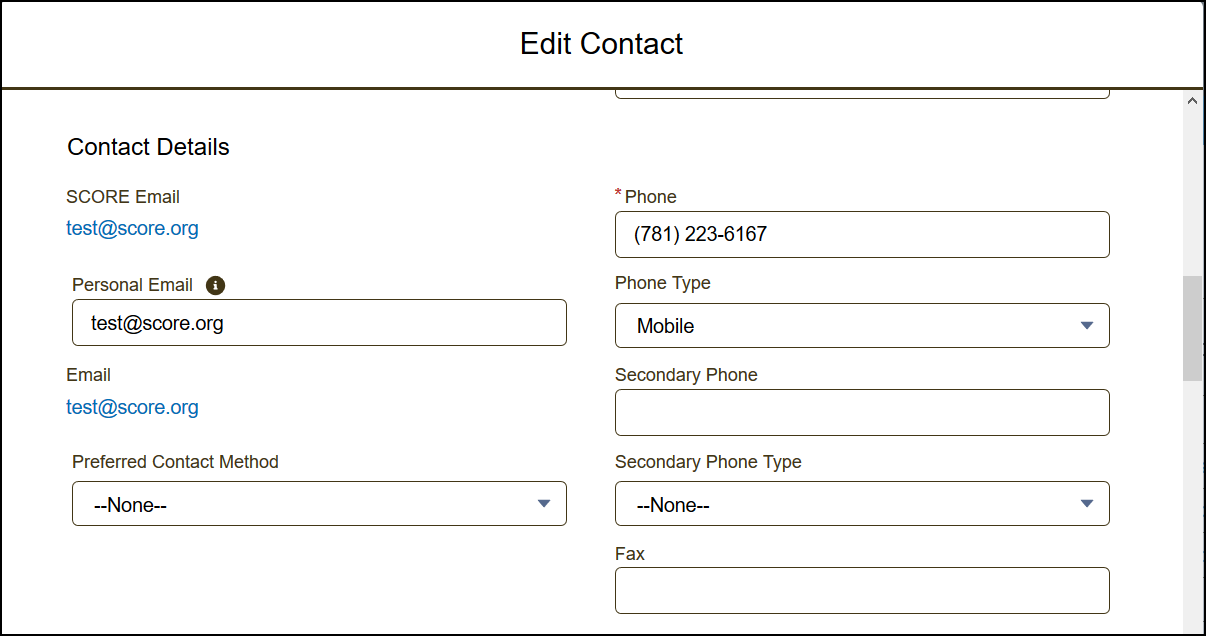 6.) Mentors and SME Direct Requests Settings - As a Mentor, you have the ability to accept direct requests and specify your expertise that is not generally covered by the list of expertise or experience that we already have in the system.
Accept Direct Requests: Click this box if you want clients to submit their mentoring requests directly to you from your online profile. Enabling this option will also allow prospective clients to search you by keyword from our SCORE chapter website. Your profile will also appear on the Search A Mentor page. In addition, the system will send a notification email to you as the lead mentor. The Client Intake Coordinator does not get any notification emails about any direct request submissions.
Subject Matter Expertise: Use this field if you want to describe your expertise that is not covered by the Areas of Expertise and Industry Experience lists below. Any keyword entered in this field can also be searchable for others within the Engage system.
Maximum Direct Client Weekly Requests: Set your weekly request limit

by entering a number. Leave it blank for unlimited requests.

Request Limit Reached: This check box will automatically be checked when your weekly request limit has been reached. An Engage week starts on a Sunday.
Serve Clients Outside of Local Area: This field does not affect anything on your online profile. Selecting YES means that your name will appear on other chapters' co-mentoring search page so that a lead mentor from another chapter would be able to select you as their co-mentor.

Send Not Counseled Report Email: Mentors can check this option to receive a weekly reminder with a list of their client requests without any sessions.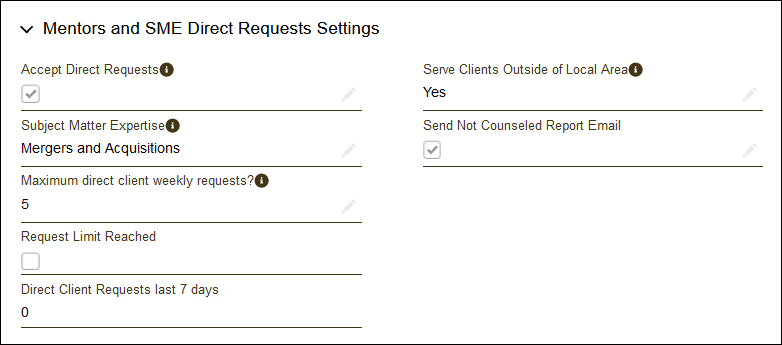 7.) Volunteer Profile Information Displayed on the Website - One of Engage's business policies is that all profiles for volunteers with a classification of Mentor and a status of Active will be visible on the website - your profile will appear in your chapter website's created Our Mentors section. All the fields under this section are visible in your online profile.
As a best practice, all volunteers are highly encouraged to fill out their profile information regardless of their classification.
Your online Volunteer Profile URL is provided in this section of your profile. You can share this direct link with your clients too.
Fluent Languages: Select from the available language list by clicking the language and click the arrow to move your selected item to the right. To select multiple options, press the CTRL key and click (for Windows) or press the Command key and click (for Mac).
Areas of Expertise and Industry Experience: Select from the available option listed on the left box, then click the arrow to move your selected item/s to the right. You are required to choose at least one Area of Expertise and Industry Experience.
Mentoring Methods: You can identify your mentoring methods by selecting all options or at least one from the available list. All A

ctive Mentors and Subject Matter Experts must have at least one Mentoring Method. Also, selecting Email, Phone, and/or Video mentoring methods extend your mentoring coverage to other zip codes.

Education (Details):

Enter your educational background in this field. This is also the best place where you can add your industry-specific certifications. There is a

32768 character limit in this text field. This is an optional field.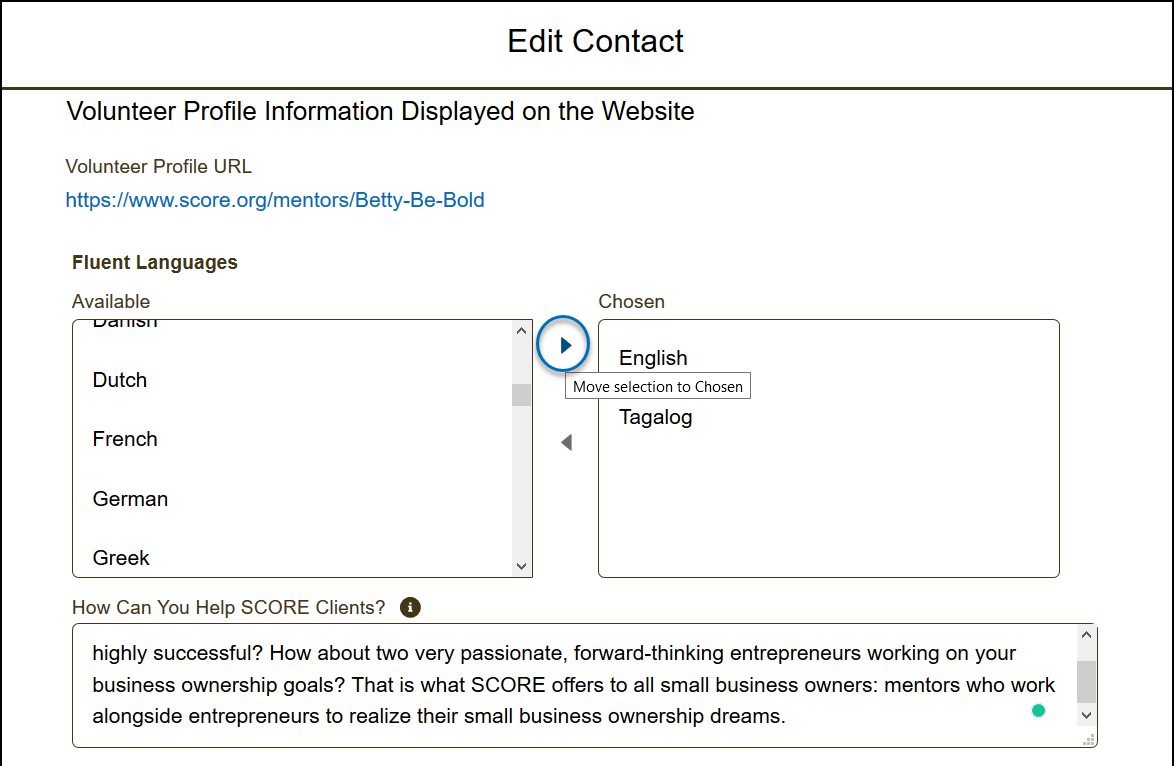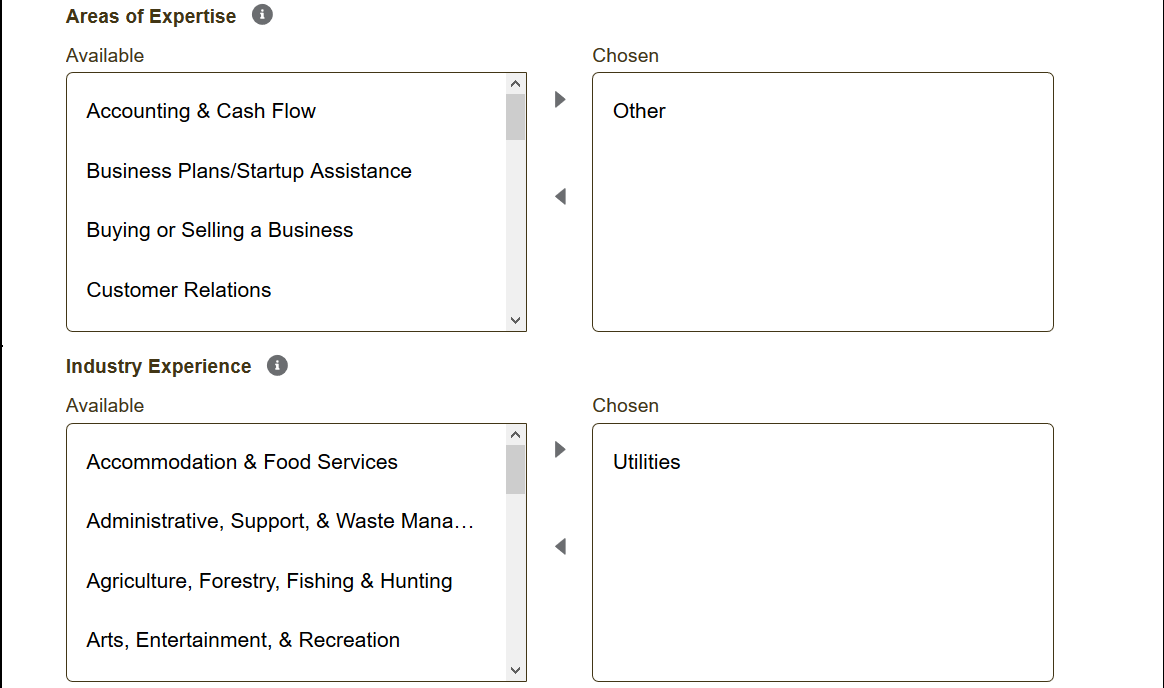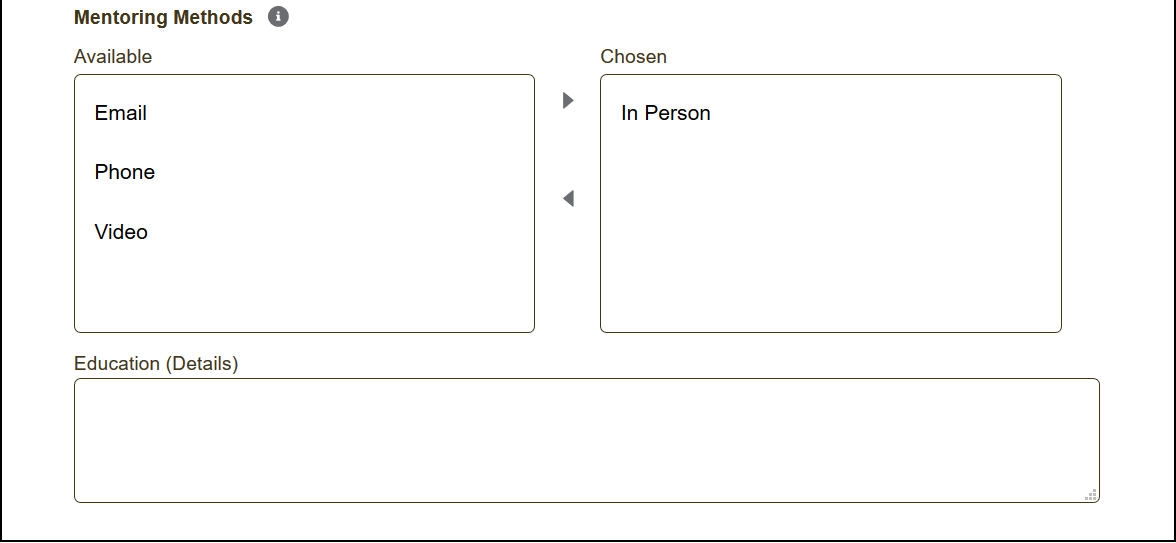 8.) Address Information - Enter your mailing address and secondary address on the text boxes provided. With the exception of the City and State, all the other information you entered here will not be shared online.

9.) Volunteer Demographics - You can modify this optional demographic information by making use of the drop-down arrow to select an option from the drop-down list.
Work Experience: You can share your work experience by entering it in the text field provided. This will not be visible in your online profile. And t

here is a

32768 character limit in this text field. You can also copy and paste your resume to this field.
10.) Social Media Information - This section is best used to share your social media channels. This is not used to promote your business. The information entered here will not be shown on your online profile.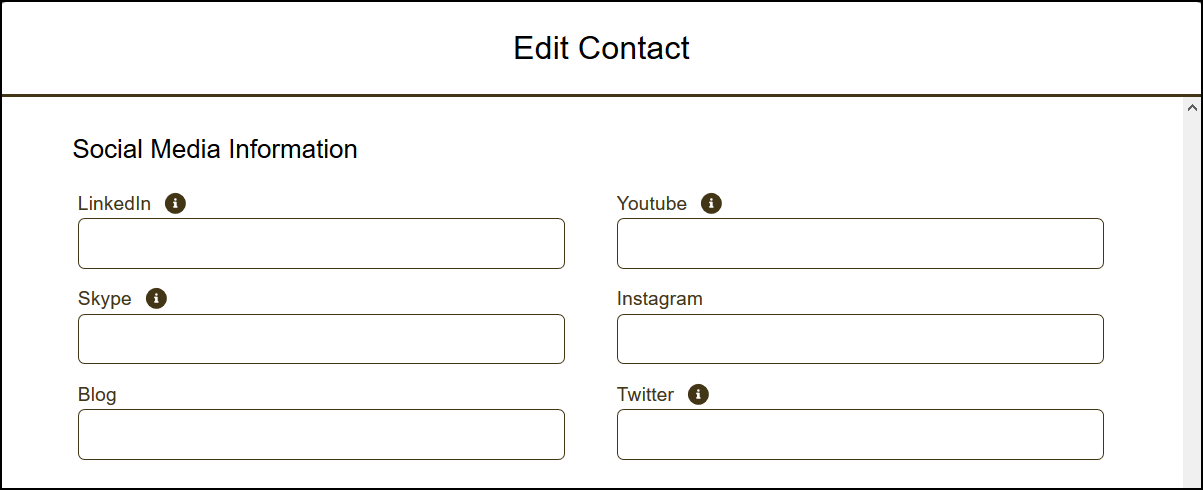 11.) System Information - This next section provides information specific to your profile in Engage such as your completed training modules. The fields in these sections are not editable on your profile page. To complete your training requirements, you should Access the Online Learning link from the homepage.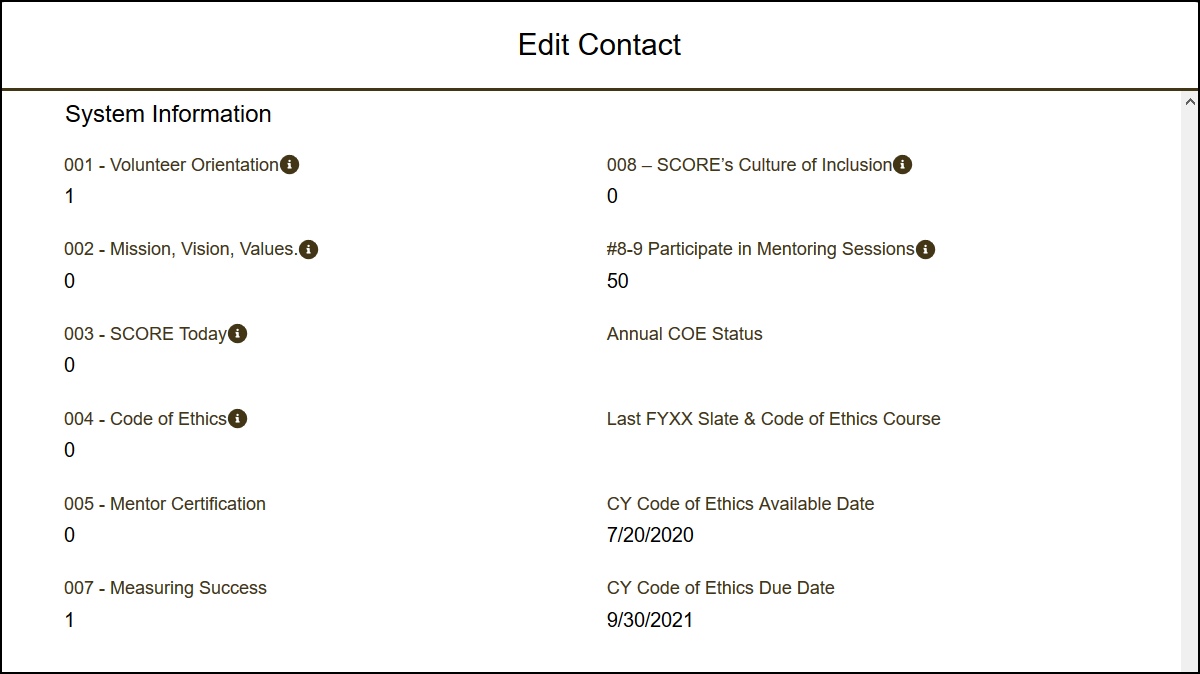 The System Information section also shows the Number of Accepted Assignments Last 60 days and the Code of Ethics Due Date. Also in this section are the fields showing your Active Positions and which chapters you are serving these active positions.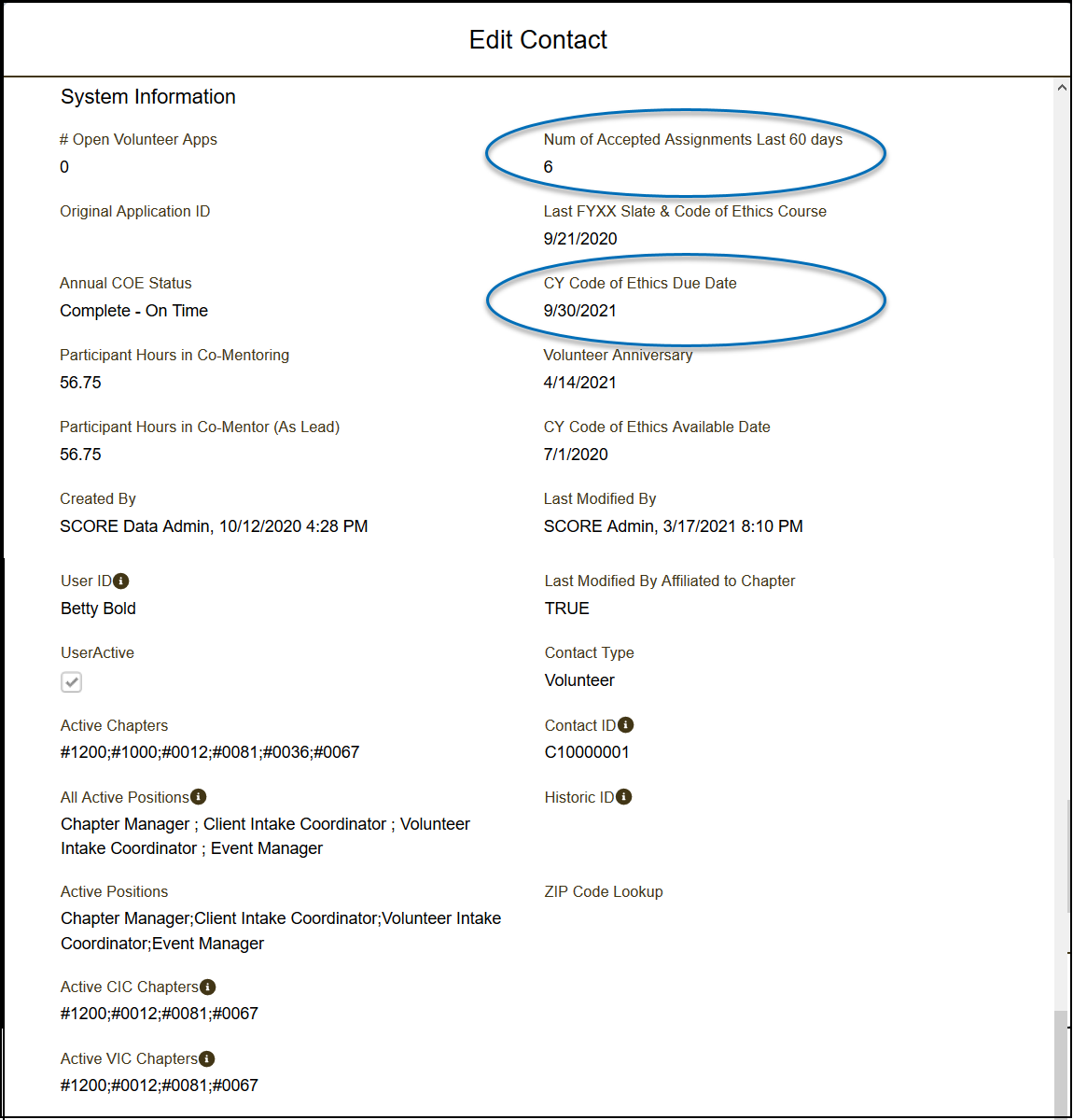 Profile Picture
All Active Mentors must have a photo associated with their account. Here are the steps to upload a picture to your profile page in Engage.
Recommendation: Your photo looks best on the website if they are in landscape orientation with your head occupying no more than 75% of the height of the photo. Also, please upload a high-resolution photo which should have at least 300 ppi (pixels per inch).

1.) From your Profile page, click Upload Picture.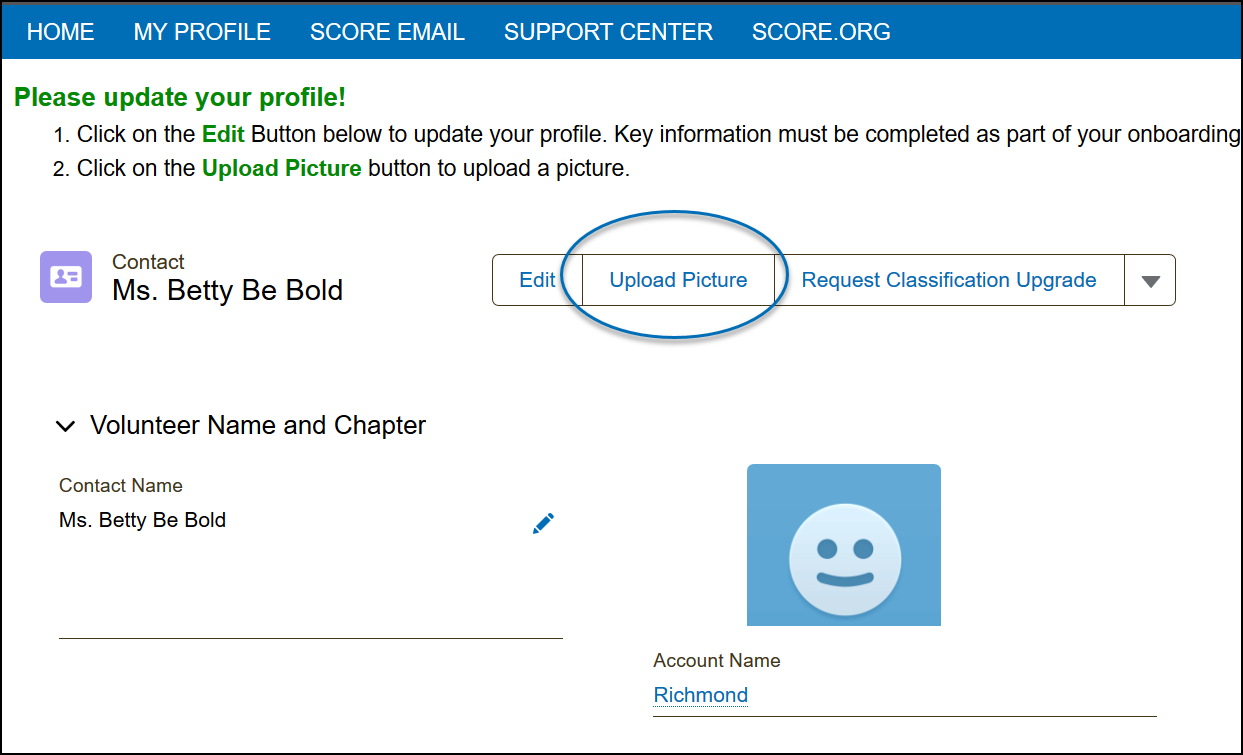 2.) Click Choose a file and this will allow you to select a photo from your local device. All image files are supported including .gif, .jpg, and .png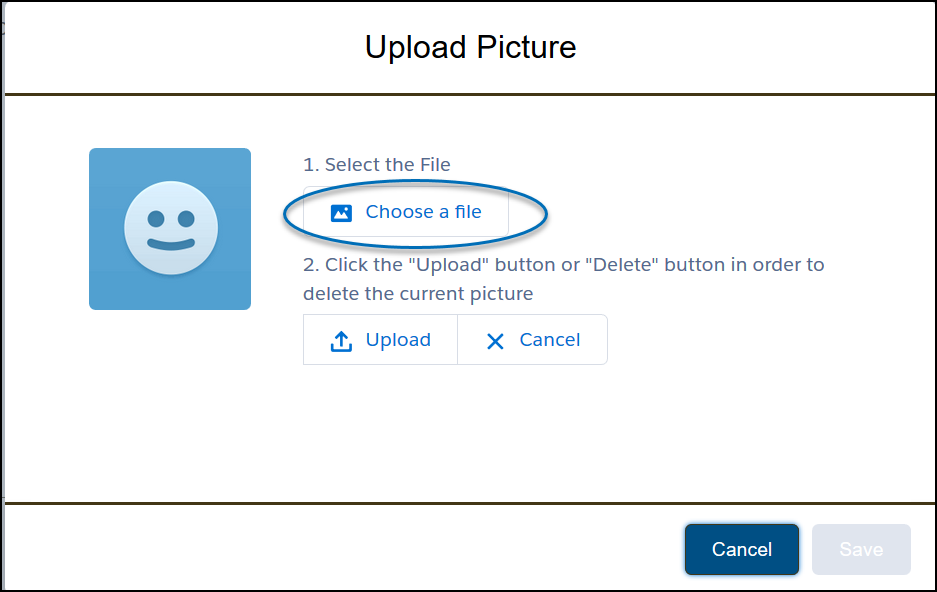 3.) After selecting the appropriate image file, the filename should appear under item 1. Click Upload and the system will both upload and save the changes. If you do not want to continue any of these actions, you can select either of the Cancel buttons on this window.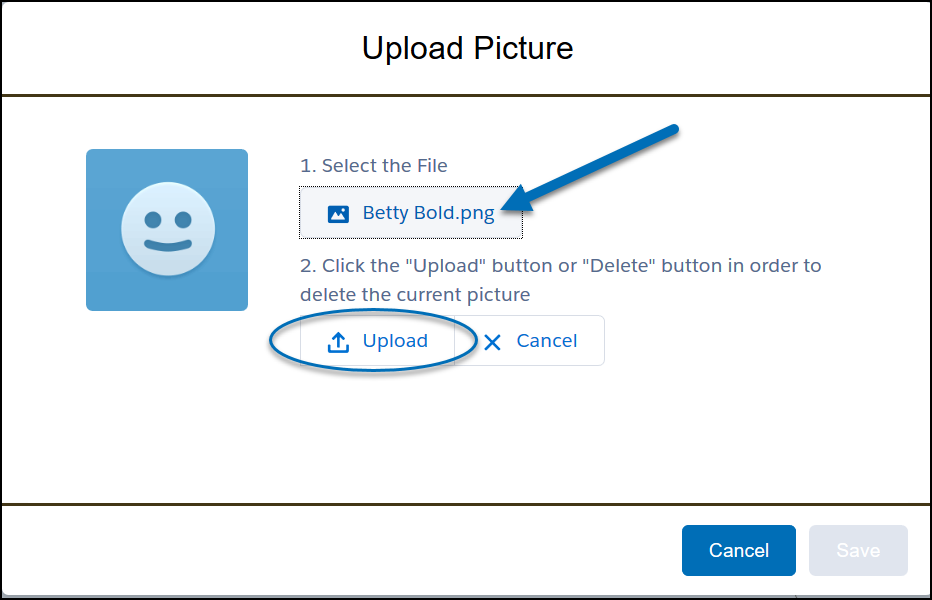 Volunteer Profile Review Requirements
Volunteers with classification Mentor must review their volunteer profile annually (based on Active Date). Mentors will be notified via email 30 days prior to Active Volunteer Status Date to review their volunteer profile.
How to Pause Mentoring Assignments
As of August 2021, we have added an enhancement to allow mentors to set themselves as away so the Client Intake Coordinator cannot assign them any client requests. To set this up, please follow the steps below.
Note: Only the volunteer themselves, CIC, VIC, and Chapter Manager are able to modify these fields.
1.) From the homepage, select My Profile from the top navigation bar.

2.) Then, click the Edit button.
3) Under the Volunteer Classifications and Status section, scroll down to Pause Mentor Assignments and check the box. Checking this box will pause your availability for new mentoring and your name will not be listed on the Assignment Page (from the CIC's view).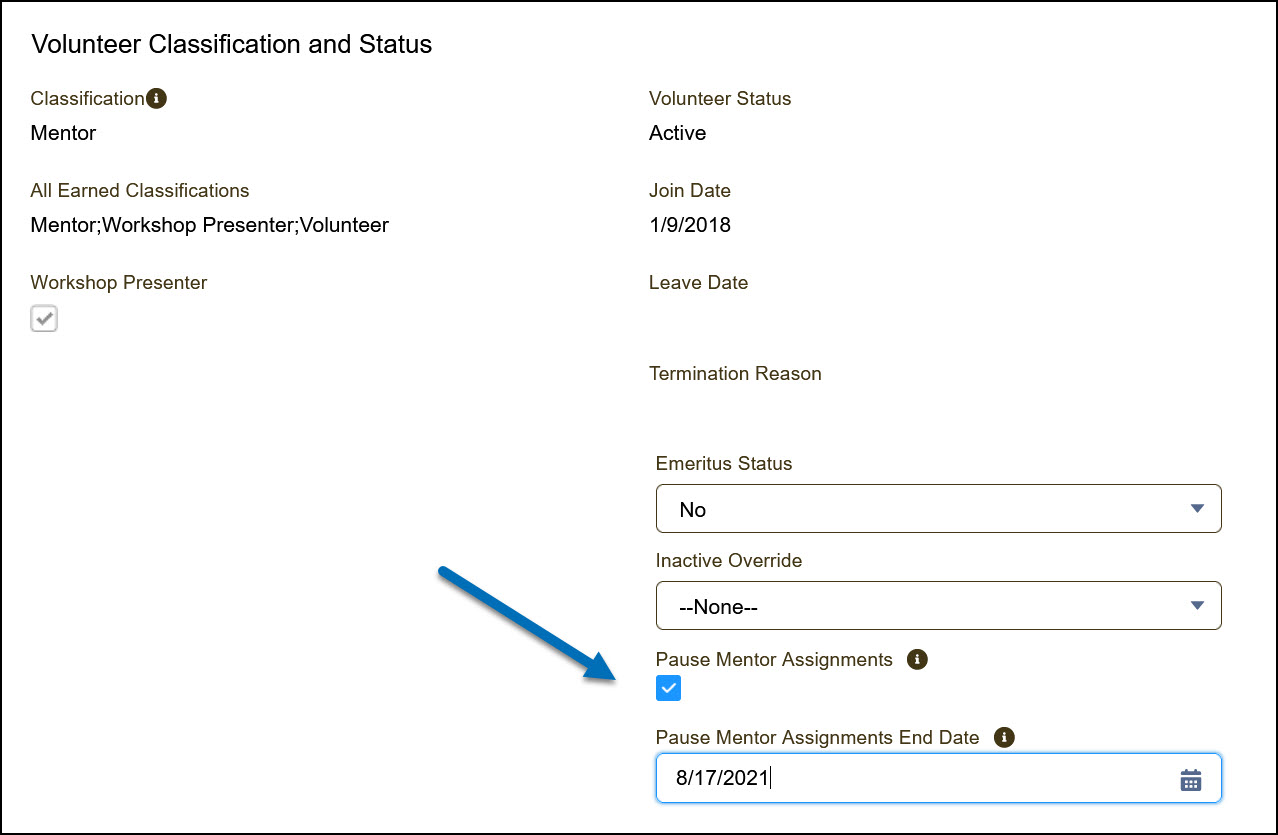 4) Optional Step: You can also set a Pause Mentor Assignments End Date (see screenshot above). Entering an end date means that you would like to end the pause of your new mentoring assignment on the date indicated in this field. It ends after midnight on the end date selected.
5) For Mentors who accept direct requests, please also do this required step. Uncheck the box to Accept Direct Requests if you do not want to receive direct requests as well while you are away.