Audience: Volunteers that are live in Engage
INTRODUCTION
All users will receive an email to their @scorevolunteer.org (SVO) address with the login link on the day their chapter goes live. The email will also include a reminder that the user must be logged into their individual SVO account for the link to work. This article provides instructions on how users will login to Engage.
Note: If your chapter is not yet live in Engage, you will be unable to login. If you are not using your SVO login credentials (i.e. using a personal email account), you will be unable to login. To view the full list of notifications for the Volunteer Journey, click here. (You must be signed into your @scorevolunteer.org account.)
YOUR CHAPTER GOES LIVE IN ENGAGE
1) Once your chapter is live in Engage, you will receive an email to your SVO (@scorevolunteer.org) account prompting you to login to Engage via the URL: https://score.force.com/s/. Note: To bookmark this page, hold down CTRL D on your keyboard (Command D in Safari).
2) Click the Sign in with Google button.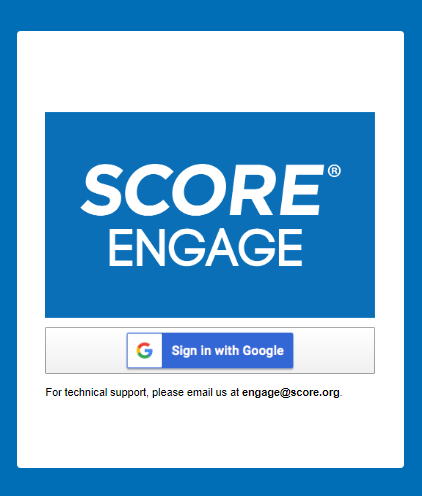 3) You will be taken right into the Engage homepage if you're already logged into your SVO account. If you are not logged into your personal SVO account, you will be prompted to do so. And if you have multiple Google accounts, you will need to select your personal SVO account from the list to proceed with logging into Engage.
.





Relevant Resources: