Before following this guide, make sure that the IMAP access is enabled in your SCORE Email.
Then follow these steps:
Open Outlook and select File.
Click the Add Account button on the Account Information page.


In the Add New Account window, select the option to Manually configure server settings or additional server types and click Next.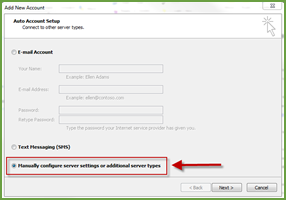 4. On the next page, select Internet E-mail and click Next.
5. On the Internet E-mail Settings page, enter the following information for each section and click Next.
a. User Information:
i. Your Name
ii. Your scorevolunteer.org email address
b. Server Information:
i. From the Account Type dropdown, select IMAP.
ii. Incoming Mail Server: imap.gmail.com
iii. Outgoing Mail Server: smtp.gmail.com
c. Logon Information:
i. User Name: Your scorevolunteer.org email address
ii. Password: Your scorevolunteer.org password
d. Click More Settings…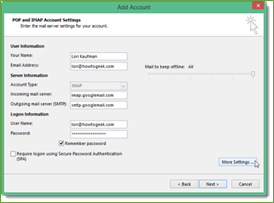 e. Click the Outgoing Server tab and select the option to Use same settings as my incoming mail server.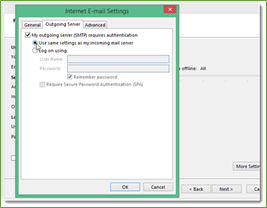 f. Click the Advanced tab and enter the following server information.
i. Incoming server (IMAP): 993
ii. Outgoing server (SMTP): 465 OR 587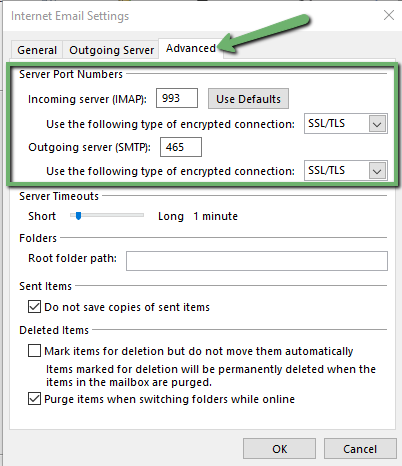 g. Click OK.
h. Click Next.
6. Your @scorevolunteer.org email account is now connected to your Outlook email account.

Click here to see a video walking you through setting this up
Additional Resources found in Office Support page at https://support.office.com/en-us/article/add-an-email-account-to-outlook-6e27792a-9267-4aa4-8bb6-c84ef146101b
https://support.google.com/mail/answer/7126229?hl=en