Our research shows that business owners' #1 trusted source of information is from each other and that they will often look to their peer-to-peer networks for business advice first.
For this reason, it is so important that we use entrepreneurs' own voices to help sell the story of SCORE's success and a great way to do that is through success stories - especially at the local level!
Here is a step-by-step guide for the new, updated submission process to collect client success stories, testimonials, photos and waivers. And if you have successfully placed a SCORE success story in the media you can submit it using this form, as well.
How To Submit a Success Story: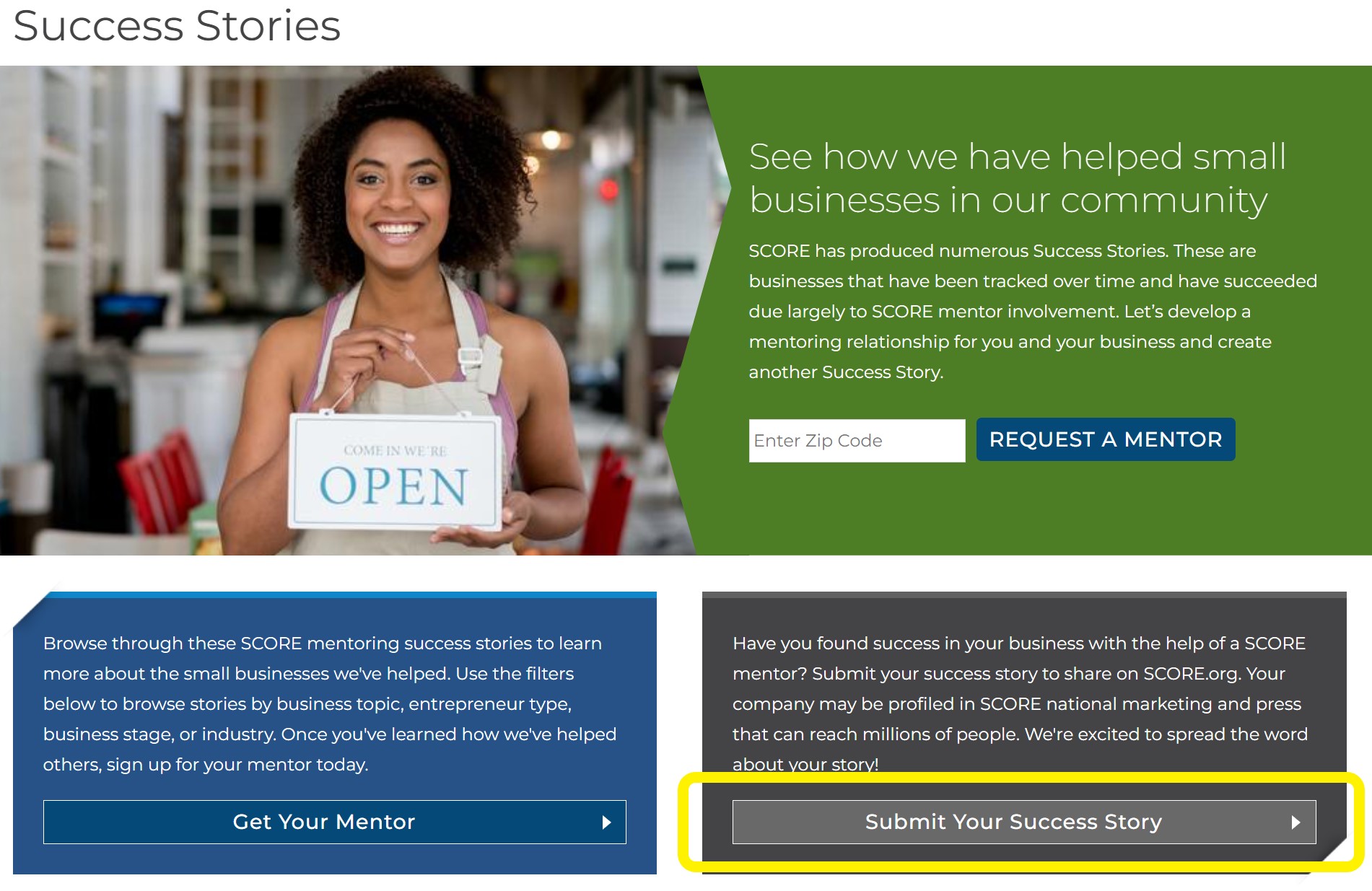 For a success story submission, select Success Story from the drop-down. There are some additional options you can choose from depending on what you are looking for, and all options are defined in-depth below. You can choose to download fillable PDF forms (for success stories or media releases on the left side of the screen) if you would like to work with your client on their story together.

Success Story: Narrative or story detailing how SCORE helped the client that contains information about the client's business including a picture of the client, business logo, year business started, website, etc.
Testimonial: Short 1 – 5-line quote about SCORE from a client or a volunteer. From a client, it can be about how SCORE helped them or positive feedback on an online resource, a local event, or another offering. From a volunteer, it can be a quote about their experience with SCORE and/or working with clients.
Photos: To grow SCORE's image library and be featured in SCORE marketing and media, please submit any client, mentor, etc. images here.
Marketing & Media Release: With a client or volunteer using this form, they are giving SCORE permission to share their story and images in national/local marketing materials and media releases.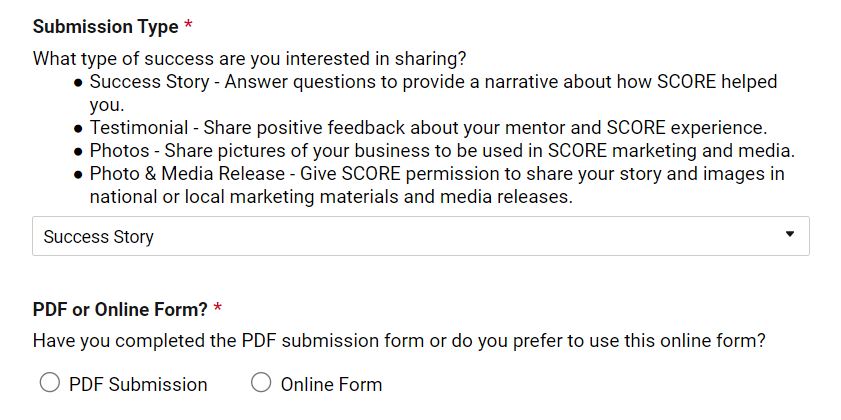 As you begin to fill out the form, you can drag and drop files into the fillable form if you have a completed Success Story or add photos or videos to accompany your submission. Any photos or videos to accompany the client's story are very helpful and do not need to be professionally taken. If you have a smartphone with a good quality camera it makes it easy!
At the bottom of the success story submission form, it asks for an electronic signature. This is the same for the PDF version as well.
After completing the form, click "Submit". You have successfully submitted a success story!
Once submitted, a notification will be sent to the HQ Marketing and External Relations Teams to notify them of a new submission. Outlined below is the process HQ currently has in place around publishing new stories to the website and notifying the chapters:
The Marketing Team reviews Success Story submissions every Friday.
The story is either published on the National site or remains unpublished for the chapter webmaster to review. It will remain unpublished if the submission does not contain enough information.
An email will be sent to the Chapter Chair and mentor(s) mentioned in the story to notify them of the submission, and whether it has been published on the national site or if it remains unpublished.
If the local success story remains unpublished, chapter webmasters can log in to the backend of the website and make any needed updates or edits. Please feel free to follow up with the client to collect more information and/or determine if you'd like to publish it locally.
For ideas on how to promote your local success stories, you can review the following presentation slides: Using Client Success Stories Effectively
We look forward to seeing your submission!