Audience: Volunteer Intake Coordinator, Chapter Manager


Introduction
When a new volunteer application is submitted, it is sent to the volunteer intake queue. This is where the Volunteer Intake Coordinator will access volunteer applications, assign interviewers, or transfer the application to another chapter.
Note: To view the full list of notifications for the Volunteer Journey, click here. (You must be signed into your @scorevolunteer.org account.)


Table of Contents:
System Notification of Application Received
The Volunteer Intake Coordinator will receive a notification for each application submission prompting them to login to Engage and begin managing the application.
Viewing Records in the Application Queue:
Business rule: Chapters no longer need to identify and attempt to resolve duplicate applications. If a duplicate application is submitted, SCORE Headquarters receives a notification as does the applicant. It is also noted on the application as "Potential Duplicate".
From the Home Page, under Volunteer On-boarding, Select Applications.


This will bring you to the list of Applications that need action.


By default, the list will be sorted by earliest Date/Time Opened.

3. Other helpful controls are available to assist in viewing the records as shown below.


Assigning Interviewers To An Applicant
Policy change: Two Interviewers are now required. If 2 interviewers are not assigned within 2 business days (48 hrs) a notification is sent to the Volunteer Intake Coordinator reminding them to assign. Prospective volunteers are immediately notified when an interviewer is assigned.
To assign interviewers, select the applicant's record from the Volunteer Intake Queue by clicking View. Next, click the Assign Interviewers button.




Select Interviewer 1 and click Next.


Select Interviewer 2 and click Next.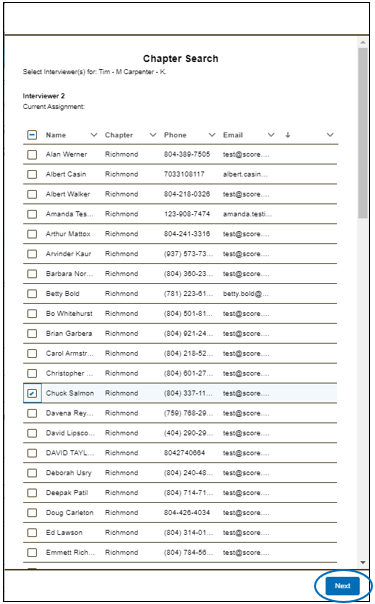 4. Then click Finish.


Transferring Application to Another Chapter
Navigate to the applicant's record from the Volunteer Intake Queue, then click Transfer Chapter.




Using the Queue drop-down, select the chapter the applicant is being transferred to and the reason. Both fields are required.
Note: I

f the chapter is not yet live on Engage, select the National Volunteer Intake.





3. Click Next and then Finish.


Applications That Are Withdrawn
Note: The Volunteer Intake Coordinator has the ability to mark an application as Withdrawn or Unable to Contact. The Chapter Manager has the ability to change a volunteer's status on their contact record.
1. Navigate to the application record from the volunteer intake queue, then in the Application Status Overview section, click Reject/Withdraw Status and select Withdrawn.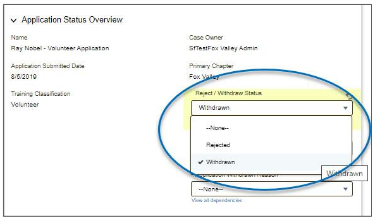 2. Click the Application Withdrawn Reason field, enter a reason and click Save.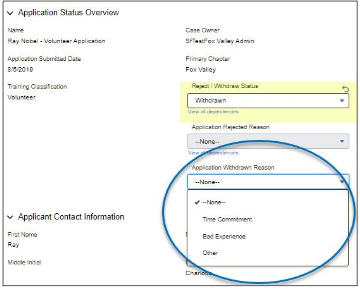 3. Next, type the member's first and last name or email address in the search field. Click on their name once it appears to navigate to their contact record.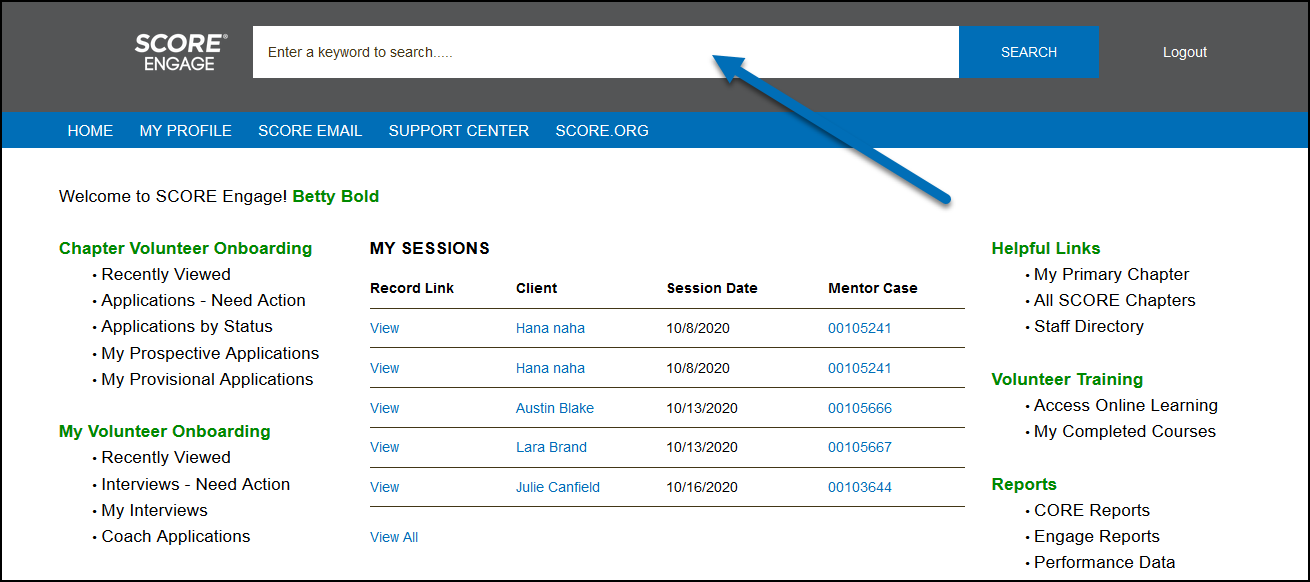 4. Once you are on the contact record, click the drop-down arrow beside the quick action buttons and select Update Volunteer Status.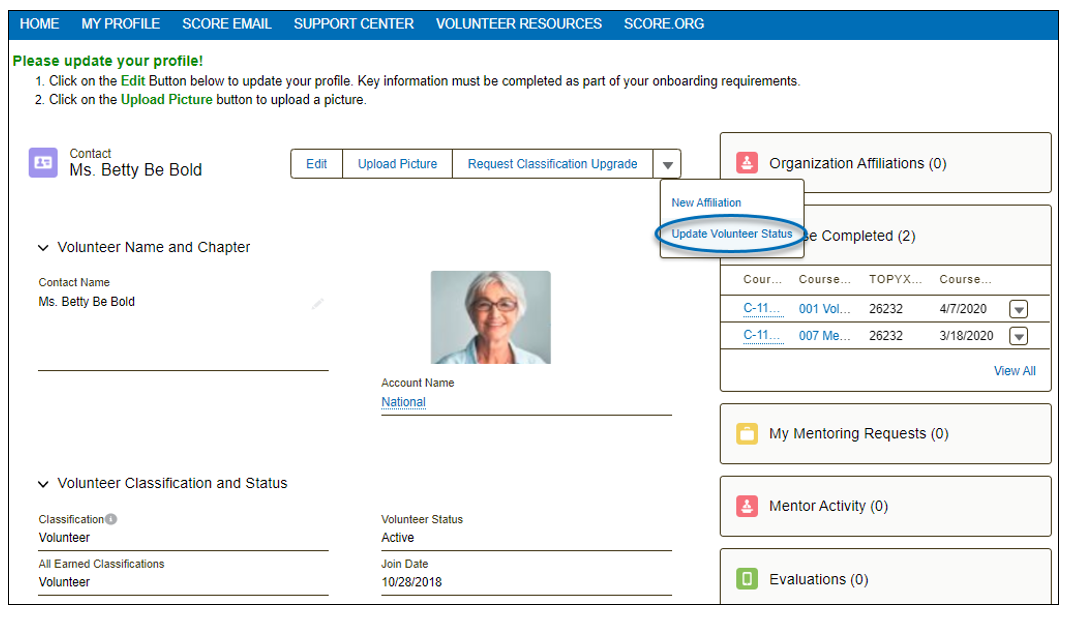 5. Select the appropriate Volunteer Status from the drop-down and click Next.



6. Click Finish.