Engage Release Notes - July 2022
The following enhancements and bug fixes in SCORE Engage are available as of 6/22/2022. In this release, the below changes apply to all active users:
Enhancements
System update: Move client journey emails to Sendgrid. To resolve our current email limitations issues where some notifications are not sent consistently, we moved most client journey notifications from Salesforce to Sendgrid, a third-party email provider. Below are all the mentoring journey emails we started sending from Sendgrid instead of Salesforce.
New Mentor Request -CIC email
New Mentoring Request -Client email
New Mentoring Request -Client email for duplicate requests within 24 hours
New Mentoring Request -Lead Mentor email
New Mentoring Direct Request -Lead Mentor email
Mentor Added to Case as Team Member -New Team Member email
Mentor Referral Notification -Mentor email
Mentor Request Declined email -CIC email
Client Intake Unassigned Reminder -CIC email
Unavailable Mentor -Client email (Sent to a client if the mentoring case is not accepted by the mentor and the case is reassigned to the intake queue after 5 days)
Mentor Assignment Reminder -Mentor email
Unaccepted Request Returned to intake queue -CIC email
Existing client New Inquiry -Mentor email
Mentor Referral Follow-On Accepted/ Denied email -Mentor email
Change in Notifications. Please note if a notification is sent to multiple CIC's, the emails will be sent to each CIC separately as we can no longer support cc'ing more than one email for each notification.
Add Recruitment Chair and Marketing Chair as Volunteer Positions in Engage: The Marketing Chair is at the forefront of your chapter's marketing efforts. The Membership Chair is responsible for all things related to Membership.
Create an Individual volunteer performance BIRT Report: This report is similar to the chapter volunteer performance report but will only display the stats for the volunteer running the report and will not show multiple volunteer stats. The purpose of this report is to show each mentor's data no matter what chapter the session was held in.
Update application status when Volunteers do not complete their onboarding to Accepted (Inactive): When a volunteer applicant does not complete the onboarding requirements in the required time period, the volunteer status is updated, but the application status remained as Accepted (Provisional). With this new logic, the application status will now also automatically update to Accepted (Inactive) and so that it does not continue to appear in the intake queue and on reports.
Walk-me Relaunch
We have worked to improve the user experience for our in-system assistance tool (Walk Me) by introducing new features and adding more smart walkthroughs.
The Walk-Me widget is now prominently displayed in the top right corner of each page within Engage.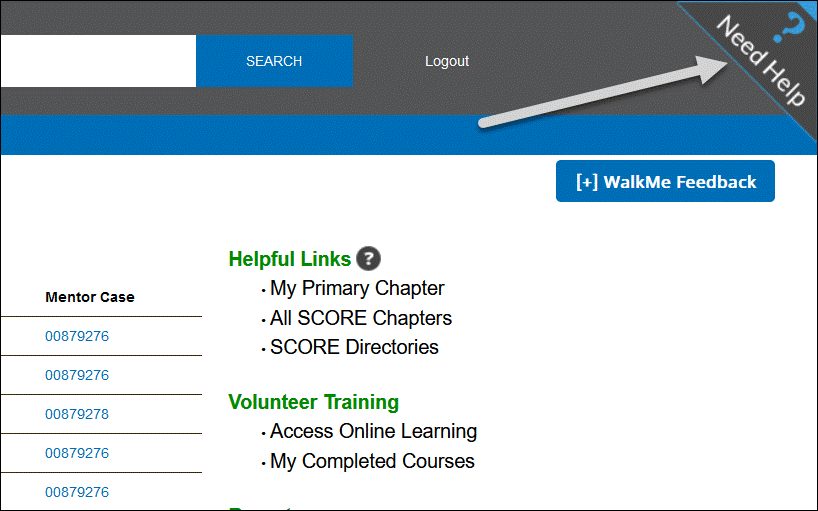 And the menu has been optimized by organizing the available options constituent journey – Volunteer, Client Mentoring, or Event.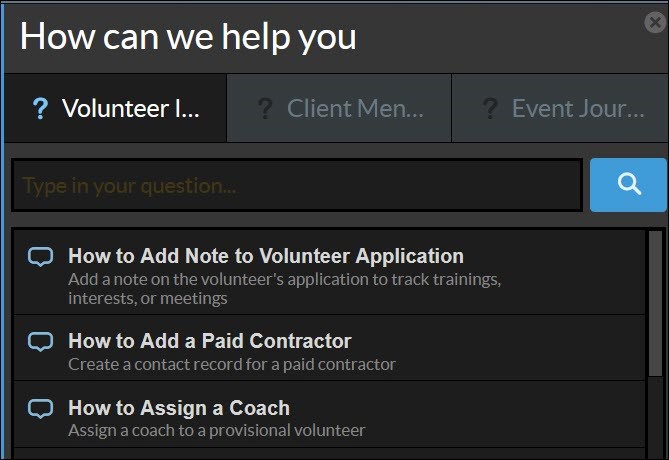 Additionally, we've added quick access to our most frequently used processes directly from the home page. Hovering over the tooltip (small question mark icon) will open a menu of short, simple walkthroughs that allow users to easily complete the desired process.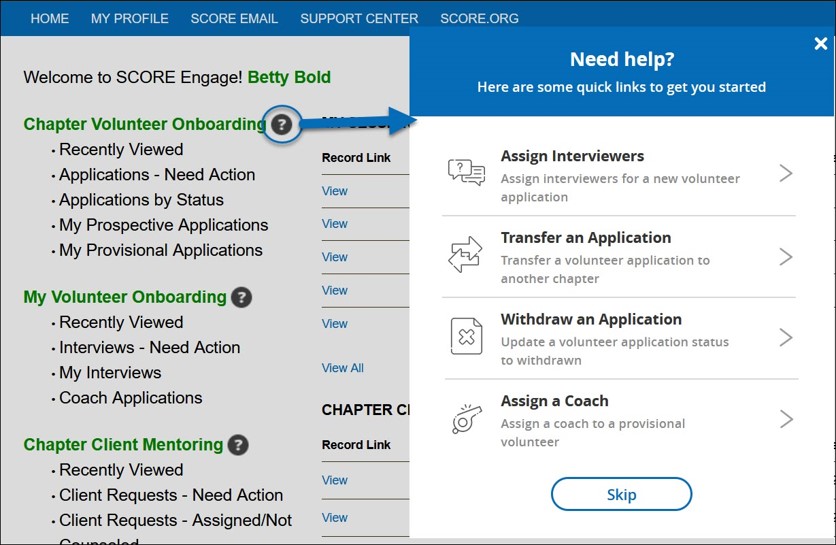 To learn more about these updates and see them in action, be sure to register for our Upcoming Live Engage Trainings.
Please see more details of each change in the link below and feel free to email help@score.org if you have questions.
For a quick view of bug fixes and enhancements included in the most recent and current sprint, click here.
Thank you for all that you do for SCORE!