Read full article here: https://www.thewesterlysun.com/news/stonington/the-ditty-bag-hopes-to-bring-focus-to-sustainable-sales-environmental-education/article_11b5f54e-df5a-11eb-83f4-9b88d8941264.html?utm_medium=social&utm_source=facebook&utm_campaign=user-share&fbclid=IwAR1PvcGEvpsi_gMryqR7jPSkbNjmvZ0Dio2fBGjDe6NCYLYcYIn0HMvnsTM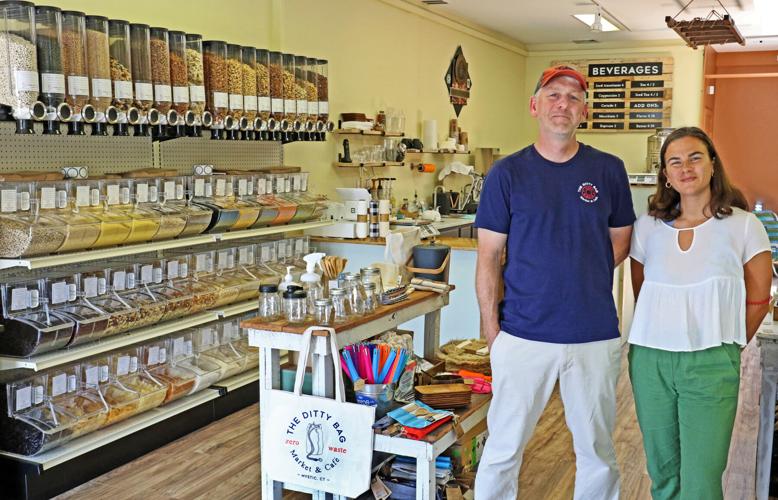 For Mystic resident Jason Hine, opening his own business wasn't about getting rich or making a name for himself.
Hine, who described himself as a concerned citizen and environmental activist, said he and his staff at The Ditty Bag Market and Cafe are committed to developing a sustainable business model that will help make a positive, long-lasting impact in the community by promoting responsible, sustainable products and lifestyles.
"My hope is that public education and community outreach will be a big part of our business model," said Hine. "We are not doing this to make get rich or even make money. Our hope is to provide a model that will encourage others to get involved, and to offer a means for local residents to help make a difference themselves..."
...After speaking with friends, he said he knew that it would be important to move forward in establishing a business himself if he were going to see a zero-waste store open. With the help of SCORE, a business-based organization that aims to help start ups and small businesses, and assistance from town staff and personnel with the Ledge Light Health District.
Hine and Kayhan did not know each other yet at that point, Kayhan explained, but she too had gone through her own experiences and was looking to see a zero-waste store open in the Mystic area. After finding some roadblocks along her own path, she learned about Hine's efforts late last year when her best friend, Bella Langlois, worked together with Hine on Bob Statchen's campaign for a state senate seat.
When Hine was ready to begin hiring staff earlier this year, Kayhan said Langlois immediately told her about the job and she reached out to Hine. The two connected instantly, Hine said, and he credited her with hitting the ground running, saying she became a valuable business partner almost immediately.
"This store isn't just about selling products. It's about connecting with people, and it's about building a better community for the future," Kayhan said.
The two work alongside two other employees, Hine said, and the team mentality has helped expedite efforts to make the new business grow. By the end of July, both Hines and Kayhan said they hope to have launched the educational component, with the first to focus on a yet unidentified environmental issue.
The two said that each program would include not only a discussion, but result in an action item for residents to do in order to remain active, such as writing a letter to a legislator or taking action to make a change in daily habits. The programs will continue to be hosted periodically, and most should remain free of charge.
They will also continue to build out their online presence — you can find the store on Facebook at https://www.facebook.com/TheDittyBagMarketandCafe/ — and work to improve their space and enhance the opportunities and product options available for local residents.
"We are continuing to look at ways to make full use of our space, and to make the biggest difference we can in our little section of the world," Hine said.