The Google Ad Grant program is offered by Google for Nonprofits in over 50 countries around the world. All SCORE chapters can apply for this grant at any time to receive $10,000 in monthly ad spend to create campaigns within Google search results through text ads.
Grant Amount: $10,000/month, or $329/day
Benefits of Google Ads:
Increase awareness of your SCORE chapter and services offered
Drive website traffic – more views and activity
Reach clients that need your help
An example of a Google search text ad is in the green box below.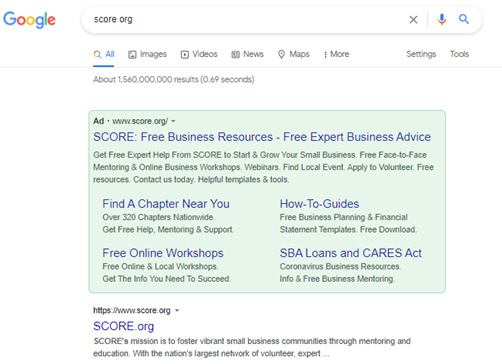 Google Ad Grant Three-Part Webinar Series:
For an introduction on Google Ad Grants, and as excellent preparation for this webinar series, you can review the following article: Google Ad Grants: How to Get and Effectively Use $10,000 Each Month to Promote Your Nonprofit.
Part 1: Introduction to Google Ad Grants
Learn how your chapter can apply for a Google Ad Grant from a Google for Nonprofits Expert. During this webinar, we will walk you through the application process and review how to utilize the free $10,000/month advertising credit effectively. This credit can be used to promote your chapter within Google search results through text ads. We will also discuss how to track campaign performance through Google Analytics.
Part 2: How to Create & Optimize Google Ad Grant Campaigns
As a continuation in the Google for Nonprofits series, tune into the second webinar to learn how to create and optimize a Google Ad Grant Campaign. Throughout the webinar, you will learn how to create and track a campaign, select keywords, write compelling ad copy, and test bidding strategies.
Part 3: How to Create an Online Strategy for Your Chapter
In the final presentation of the three-part Google for Nonprofits series, you will hear about both the benefits and limitations of Google Ad Grants, online marketing strategies, and how to avoid internal competition.
Resources:
Google Ad Grants Support:
Peter from AboveX Digital, our webinar presenter on Google for Nonprofits, has offered his services to SCORE Chapters. For pricing information, please email marketing@score.org.
Google also has informational videos and guides on its website that are very helpful as well: Google Ad Grants Educational Resources.
If you have any questions regarding Google Ads, please email marketing@score.org.