1.1 Drupal Basics
Drupal (version 7) is a content management system (CMS). It's used to keep the content of our various sites organized and up-to-date. These are terms that we use to help describe different elements within the Drupal CMS:
Authenticated User: A user who is logged into the Drupal CMS (e.g., Webmaster and Administrator)
Unauthenticated User: A user who is NOT logged into the Drupal CMS.
Node: The Drupal-specific term for what most closely compares to a page.
Node Id: The unique identifier for every node in the system. Used for linking purposes.
Domain: The domain defines the site URL (e.g. from https://boston.score.org/content/contact-us, https://boston.score.org is the domain).
Relative Path: The site specific path that relates only to the position within the site (e.g. https://boston.score.org/content/contact-us, content/contact-us is the relative path).
Taxonomy Term: Fields that determine the placement of content and define search facets.
Vocabulary: A parent Taxonomy term (e.g., Topic, Type, Medium.); the family name for parent and children taxonomy terms. SCORE Vocabularies include:
| | |
| --- | --- |
| Vocabularies | Purpose |
| Business Stage | Used to tag content with applicable business stage. |
| Entrepreneur Type | Used to tag content with applicable entrepreneur type |
| Format | System Generated. Used to populate the "Type" Field on the Landing Page |
| Industry | Used to tag content with applicable industry |
| Resource Type | Used to tag the various resource formats. E.g. podcasts, articles, etc. |
| Language | Used to tag content with applicable language. Note: currently the only language tag is Spanish. |
| Sponsors | Used to create Sponsors with links, descriptions and images that can be associated with site content. |
| Topics | Key site vocabulary used to tag and organize content. |

Masonry Listing: This is a way of listing content that presents options or search results in square tiles instead of a standard list. You can find the masonry listing on the Take a Workshop and Browse Library pages. You can also add it to other landing pages you create.
WYSIWIG: Stands for "What You See Is What You Get". This is a web page editor that allows you to add text, images, links and other information as desired to be displayed for end users exactly as you add it (matching the site's style).
1.2 Logging in and Navigating
Webmasters are required to log into the CMS in order to manage content and configure the website. The link provided below is the URL for Webmasters, do not use the 'Log In' link provided on the www.score.org site.
1.2.1 Log-In to your Account
To login go to (chaptername).score.org/login. For example, if you're with the Lancaster-Lebanon chapter, you would login at lancaster.score.org.
Click on the 'Volunteer Log In' link in the utility menu of your chapter website.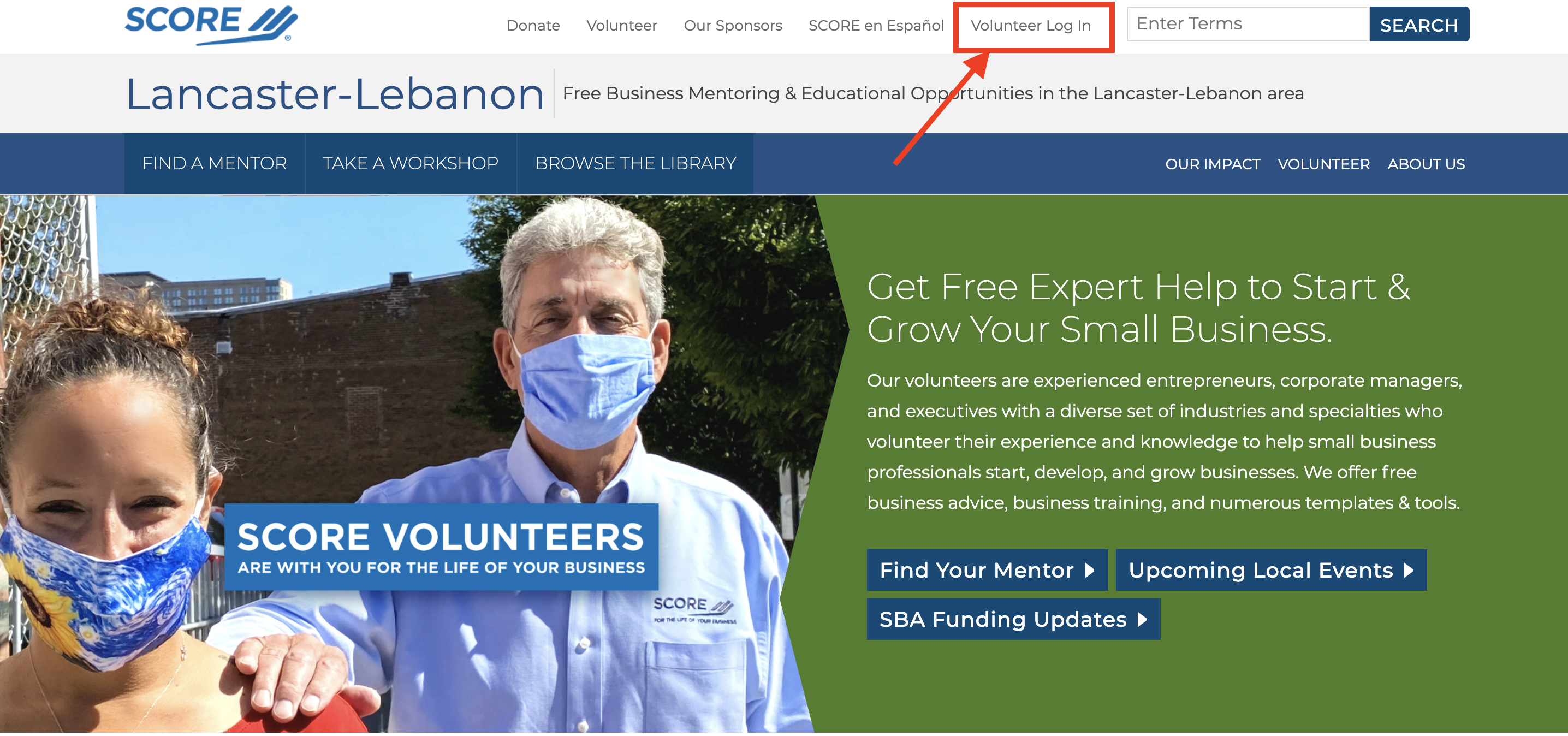 Figure 1‑1 - Volunteer Login Link
You will be taken to the screen pictured below where you will click on the 'Log in as a Webmaster' button.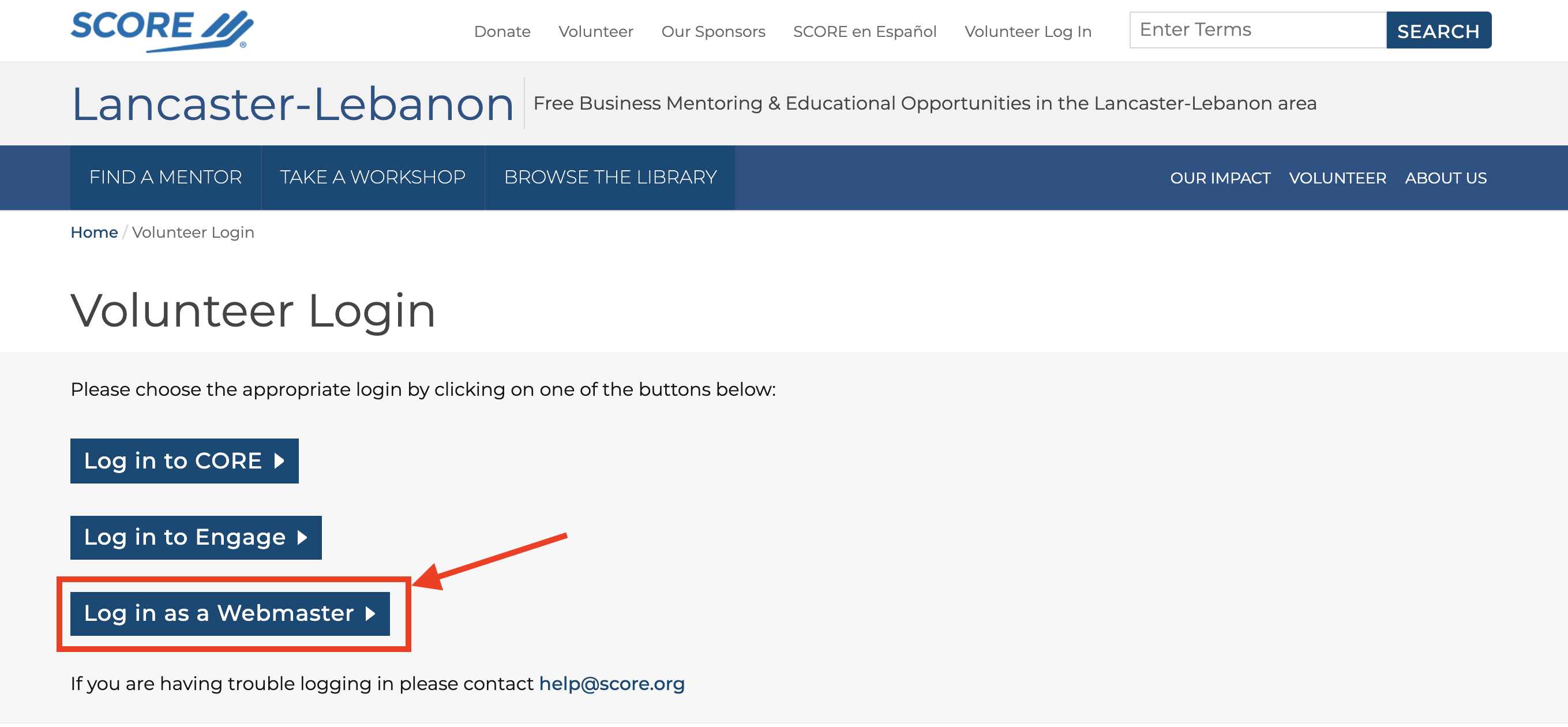 Figure 1‑2 - Webmaster Login
You will be taken to the screen pictured below where you will enter your username and password.
First time users, if you received an email notification that an account was created for you, follow the instructions provided in that email in order to log in.
Once successfully logged in, the Admin Toolbar will be visible.



Figure 1‑3 - Admin Toolbar


1.2.2 Log-Out of Account
There are two methods to log-out of the CMS.
Select Log out in the Admin Toolbar (see below image)
Select Log out in the Utility Navigation (see below image)

Figure 1‑4 - Webmaster Log out


1.2.3 Admin Menu
The Drupal Admin Toolbar menu provides access to functions necessary to administer the SCORE Site. This Toolbar contains the following items along the top (in the black bar):
Content: You can add and search for content from this page, including but not limited to workshops, resources, and author profiles.
Structure: Add and update sponsors here.
Hello <Username>: Clicking on this link takes you to your account options and settings. From here, you can select Edit to make changes to your account, such as your e-mail address & password.
Configuration: See information about the updates made to your site from the latest CORE synchronization. You can also configure your Constant Contact API here.
Figure 1‑5 - Webmaster menu tool bar. Content of the toolbar may vary by user and type of account.
1.2.4 User Menus
There are 3 site menus that end users can interact with to navigate through your site.
Main menu: This menu contains the 3 main calls to action for the site: Find a Mentor, Take a Workshop, and Browse Library. These menu items are not editable.

Find a Mentor leads users to the mentoring landing page where they can use keywords to find mentor profiles, submit a local mentoring request, or find a local chapter/branch.
Take a Workshop leads users to the workshops landing page where they can see both national and local workshops.
Browse Library leads users to our resource library where they can find free business templates, articles, blogs, checklists, podcasts, infographics, videos and other materials.

Secondary Menu: This menu is located to the right of the main menu in the main navigation bar, but these links contain information about SCORE and are not our primary services/calls to action. e.g. About Us, Success Stories and Our Impact. All three menu items are editable.
Utility Navigation: This menu is located above the site search bar in the upper right corner. These links help users engage with our organization ways beyond the standard SCORE services. This includes making donations, becoming a volunteer, and logging in to the site. 'Donate', 'Volunteer', and 'Log In / Log Out' are not editable. An additional three menu items are allowed.

Figure 1‑6 - Navigation sections