Access Links for On-Demand Content
All SCORE Mentors should... 
1) Make sure that you complete and maintain your profile page in Engage.
It's vital to keep your profile page updated and review it frequently to ensure its accuracy. Regularly updating your profile page ensures that clients and other Engage users have the most current and relevant information about you. Follow the steps below to edit your profile page:
From the Engage homepage, select My Profile from the top navigation bar.
Then on your profile page, click the Edit button.
Click on the resources below for further guidance on updating and managing your profile page.
2) Always Accept Direct Requests & Out of Area Clients.
Set your profile to accept direct request and say 'Yes' on serving clients outside of local area to open your profile to co-mentoring with other chapters. Edit the Mentor Request Settings in your Profile page.
The Mentor Request Settings section offers the flexibility for a mentor to personalize your preferences regarding accepting direct requests, including setting your preferred maximum limit for weekly requests. Additionally, mentors can also pause assignment from the Client Intake Queue from this section.
To enable Accept Direct Request, edit your profile page in Engage and click the box.

Accept Direct Requests: Checking this box will allow you to receive mentoring requests directly from a client. When you update your profile to accept direct requests, you will receive e-mail notifications directly from the client through SCORE's website. When you check Accept Direct Requests:

Please indicate the number of requests you agree to accept weekly in the

Maximum direct client weekly requests

field: Leave blank for unlimited requests. 
Request Limit Reached: This check box will automatically be checked when your weekly request limit has been reached.
Direct Client Requests last 7 days: This shows the number of direct requests a mentor has received in the last 7 days.
Select YES on Serve Clients Outside of Local Area field.

Serve Clients Outside of Local Area: This field does not affect anything on your online profile. Selecting YES means that your name will appear on other chapters' co-mentoring search page so your CIC will be able to select you as a co-mentor to support Provisional training or support expertise.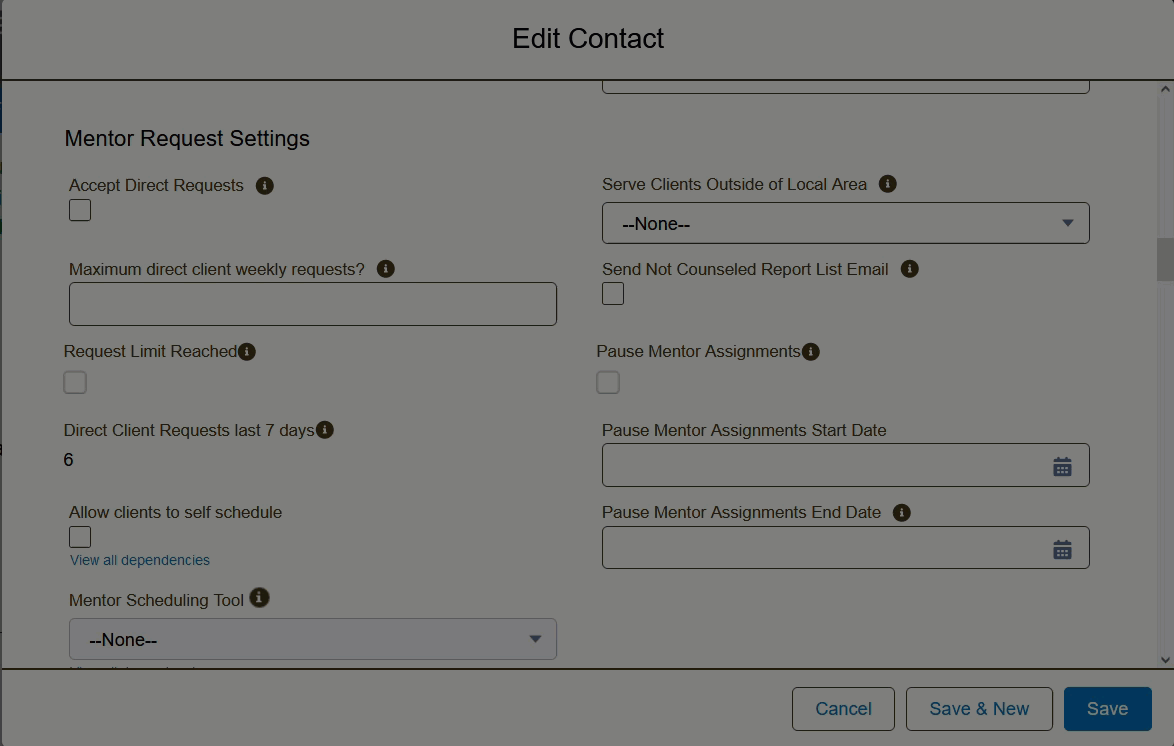 Gif attached above showing steps on how to accept direct request and say Yes to open co-mentoring with clients outside of local area.
3) Respond to client requests within 48 hours.
Ensure that you accept clients within 48 hours to initiate the introductory email within that period. When you accept an assignment in Engage, it will prompt you to send a email note to the client. Check your SCORE Email regularly for an email notification of an assignment OR check the My Client Requests - Need Action list in the Engage homepage.
It is recommended that volunteers check their @scorevolunteer.org email on a daily basis in order to be able to respond to client requests within this timeframe. 
Click the link to review the steps on how to Accept Mentor Requests.
4) Accept ALL Requests and Conduct introductory mentoring sessions.
All SCORE Mentors should be able to conduct an introductory meeting, regardless of the client's business status, industry, and questions. Review this article on the Guide to Introductory Mentoring Sessions In the SCORE Pilot, mentors should Accept ALL Mentoring Requests. 
5) Attempt to contact client at least 3 times within 2 weeks.
Confirming that you've reached out to the client on three separate occasions within a two-week span is crucial. This consistent effort demonstrates commitment and diligence in establishing communication with your clients.
Alternatively, you can send an email directly from your @scorevolunteer.org account. Use this guide to review how to send and View Messages In GMAIL Using SCORE Email.
6) Update the mentoring request status appropriately.
When you update the status of a mentoring request, you're proactively keeping your Client Intake Coordinator informed about its progression. This step also helps de-clutter your client requests list ensuring you can focus on the in-progress cases.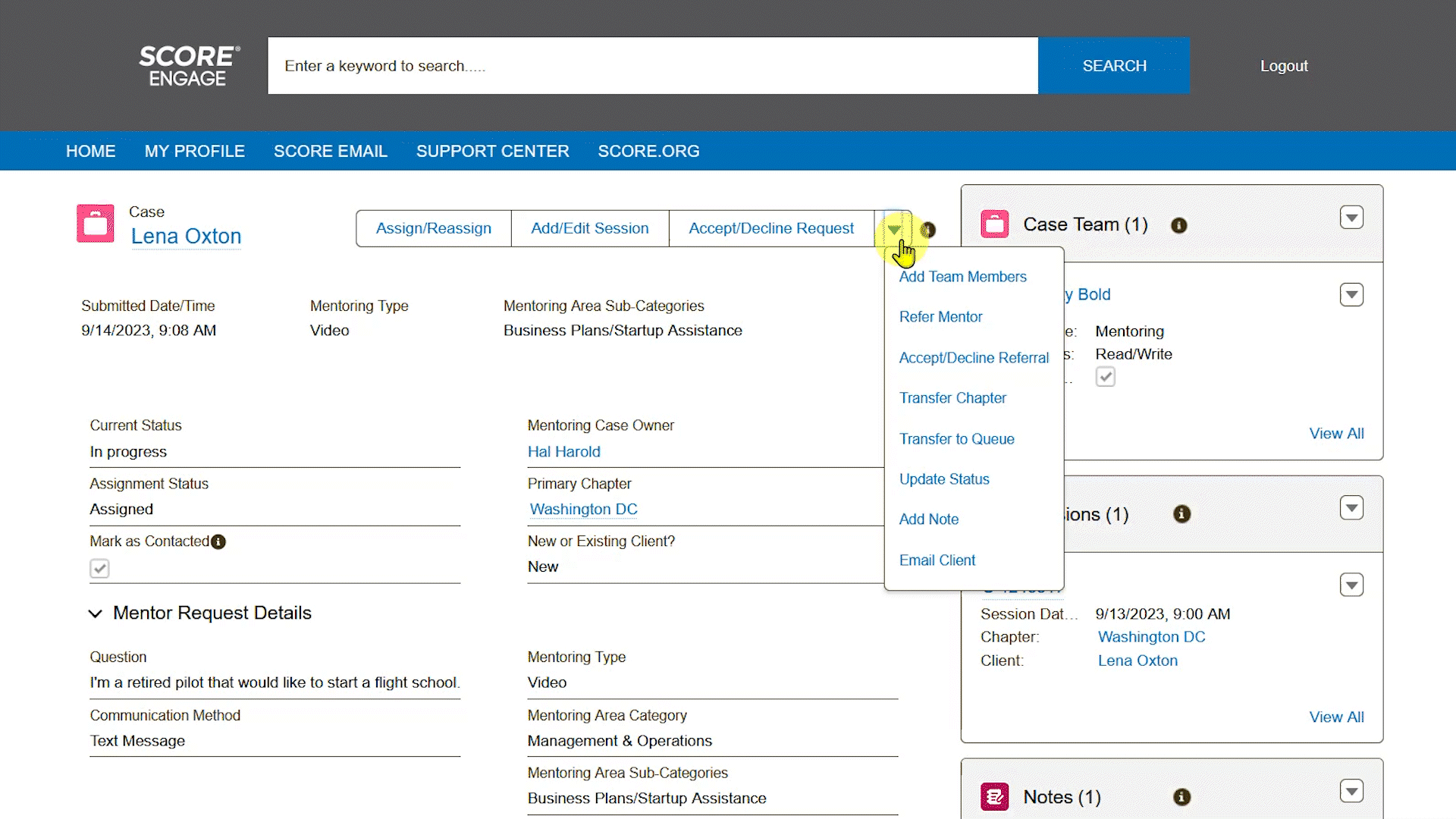 Click the link to review the video on How to Update the Mentoring Request Status. You can also review the steps in this guide - Updating a Client's Mentoring Request Status.
7) Enter all mentoring sessions into Engage.
Enter your mentoring sessions in after they happen ensures accurate documentation and foster clear communication. So, make sure to enter your mentoring session in Engage. Review this guide on how to Create or Edit a Mentoring Session.
8) Use the Subject Matter Expertise field to communicate your capacity and availability.
Begin with indicating the number of CIC-assigned MREs you are willing to accept per week,
Any additional information can be left, however the CIC will only be referencing number of clients to assign per week in the Subject Matter Expertise box.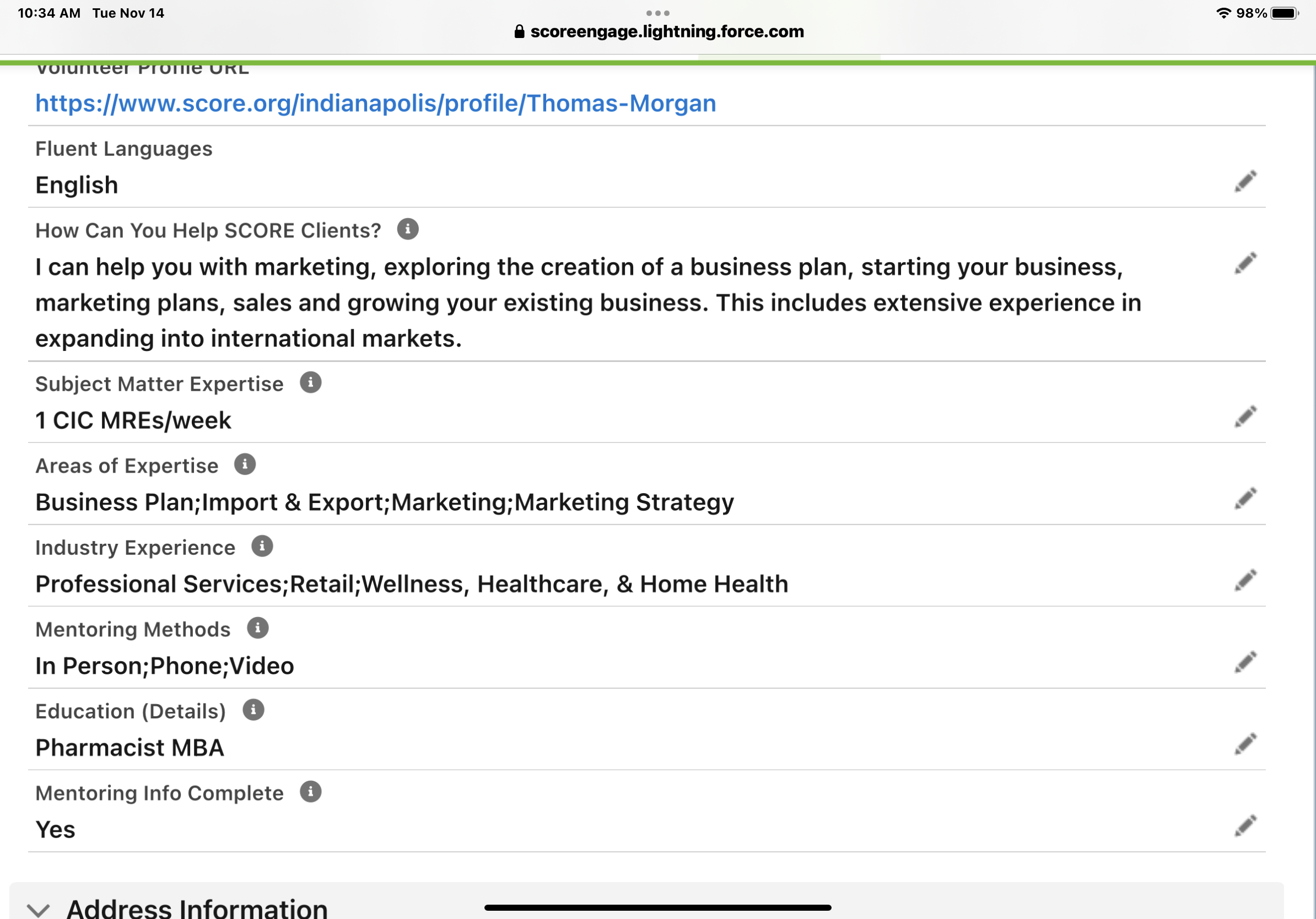 Examples:
3 per week
5/week
DR Only (Direct Requests Only)
9) Pause Mentoring requires setting Pause Dates and unchecking Accept Direct Request.
If you're inundated with mentoring requests or planning a brief vacation, you can pause your mentoring. Just follow these two steps.
1) Set Pause Dates: Specify your start and end dates to temporarily suspend new mentoring requests from being assigned to you by your CIC. Reference: How To: Pause Mentor Assignment
2) Uncheck 'Accept Direct Requests': Ensure this is unchecked to avoid receiving any new direct requests during your specified absence dates. Remember to recheck this option upon your return to resume receiving direct requests.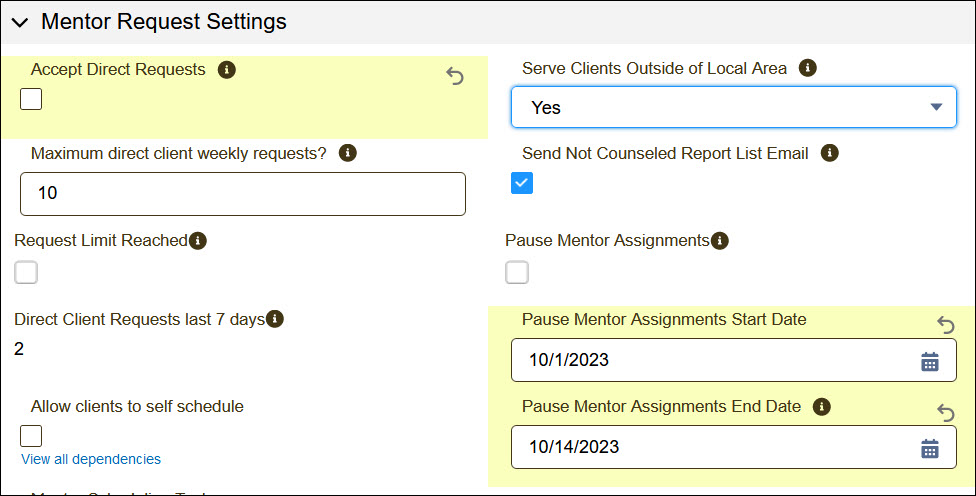 10) Be Mindful of Other Relevant SCORE services and resources that may benefit the client.
A single  first-call "discovery" mentoring session can trigger multiple additional services from a single session. During the session and in follow-up the mentor should be recommending additional SCORE resources relevant to the client Question & discussion as "homework".
A "one & done" with an aspiring entrepreneur can actually trigger the following additional services credits if you reference them in your follow-up email to the client: